ZOA Exposé: The Myth of Occupation
Click here to read the booklet.
ZOA Exposé: J-Street Sides with Israel's Enemies & Works to Destroy Support for Israel
J Street is a radical organization that misleadingly labels itself as "pro-Israel" and "pro-peace" while promoting policies and falsehoods that endanger Israel's existence, damage American support for the Jewish state, and poison young vulnerable minds against their Jewish brethren.
Harvard Law Professor Alan Dershowitz summed it up best when he stated: "J Street is one of the most virulent anti-Israel organizations in the history of Zionism and Judaism."
As a leading voice in the defense of Israel and the Jewish people, the Zionist Organization of America (ZOA) cannot tolerate J Street's continuous spreading of falsehoods and nefarious activities, and is therefore launching a fully researched and articulated exposé into this toxic group.
In ZOA's new Executive Summary and Report, you will encounter facts about:
• J Street's anti-Israel and Muslim donors
• J Street officials' statements opposing Israel's existence
• J Street's support for anti-Israel boycotts, divestment and sanctions (BDS)while pretending to "officially" oppose BDS
• J Street's promotion of the disastrous Iran deal and repeated lobbying against sanctions on Iran
• J Street's legitimization of Arab terror
• J Street's demonization of Israel on college campuses
• J Street's campaigns to turn officials, politicians and major party platforms against Israel
• J Street's entanglements and coordination with a web of extremist organizations working to delegitimize Israel
We hope that you will join us in this battle for truth and justice for Israel and for the US-Israel relationship by reading and disseminating this information.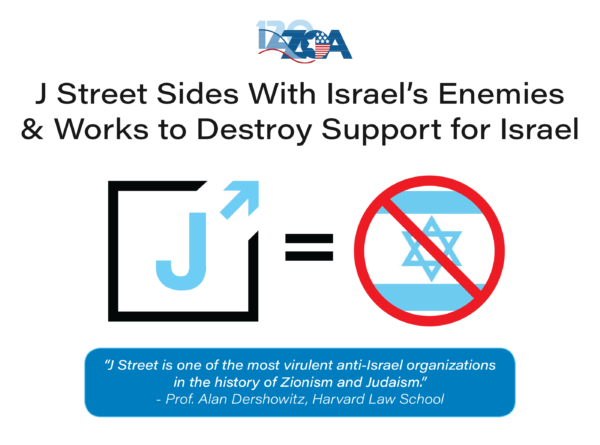 J-Street full report: