NEW YORK (CBSNewYork) – Despite the Metropolitan Opera's decision to cancel the simulcast of a controversial opera, there is still anger and unease surrounding the Met's plans to put on the performance at the opera house this fall.
As WCBS 880′s Peter Haskell reported, canceling the simulcast wasn't enough for some. Morton Klein, of the Zionist Organization of America, said the show at the Met should not go on.
"'The Death of Klinghoffer' is a play that is filled with ugly, anti-Semitic propaganda lies," Klein said. "It humanizes and romanticizes and even legitimizes the murder of innocent Jews."
Klein said he wants donors to close their wallets if the Met is unresponsive to the demand to cancel the fall performance.
"Donors should say, we want nothing to do with this filth," Klein said.
The head of the Metropolitan Opera insists the play, which depicts the 1985 hijacking of the Italian cruise ship Achille Lauro and the murder of disabled Jewish passenger Leon Klinghoffer, is not anti-Semetic.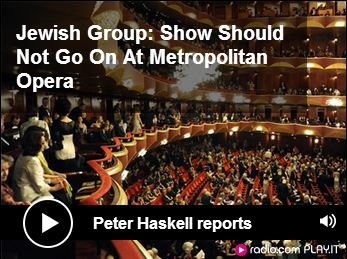 Center for Law & Justice
We work to educate the American public and Congress about legal issues in order to advance the interests of Israel and the Jewish people.
We assist American victims of terrorism in vindicating their rights under the law, and seek to hold terrorists and sponsors of terrorism accountable for their actions.
We fight anti-Semitism and anti-Israel bias in the media and on college campuses.
We strive to enforce existing law and also to create new law in order to safeguard the rights of the Jewish people in the United States and Israel.
Our Mission
ZOA STATEMENT
The ZOA speaks out for Israel – in reports, newsletters, and other publications. In speeches in synagogues, churches, and community events, in high schools and colleges from coast to coast. In e-mail action alerts. In op-eds and letters to the editor. In radio and television appearances by ZOA leaders. Always on the front lines of pro-Israel activism, ZOA has made its mark.