| | | |
| --- | --- | --- |
| | September 5, 2014 | |
New ZOA Monograph Exposing "The Truth About HAMAS's War Against Israel"
September 5, 2014
SHARE THIS WITH YOUR FRIENDS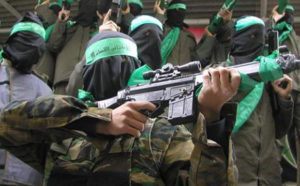 The Zionist Organization of America (ZOA) has been distributing a brand new informative fact-filled mongraph exposing Hamas's falsehoods, entitled "The Truth About HAMAS's War Against Israel" to college and high school campuses, the media, Congress, and others. 
ZOA's monograph includes facts and details about: 
Hamas's continuous designation as a foreign terrorist organization that threatens U.S. nationals' or national security;
Hamas's stated goal of annihilating Israel and murdering every Jew;
Hamas's deliberate targeting of innocent Israeli civilians with over 15,000 rockets prior to mid-July 2014 and another 4,000 thereafter this summer, and other means;
Hamas' repeated ceasefire violations;
Israel's protection of Gazan civilians;
Hamas's use of civilian shields and deliberate placement of rockets and launchers in homes, schools, etc. which has led to the saying that HAMAS is an acronym for "Hiding Among Mosques, Ambulances & Schools"
Israel's extraordinary humanitarian aid to Gaza despite Hamas' continuing attacks on Israel, and Hamas's use of aid to build terror tunnels;
How Hamas "lies with statistics" with grossly inflated civilian casualty figures and "staged" casualty pictures, when over have the casualties are terrorists;
Hamas's intimidation of journalists into not reporting Hamas' attacks, and into not reporting the truth about Hamas's false claims;
The truth about specific false Hamas claims that Israel targets civilians in UN schools, camps and hospitals; and
Hamas's summary executions of Arab dissenters and fatal exploitation Arab children and murders of other tunnel workers.
A copy of the monograph can be viewed here.  The monograph's factual information counteracts the scurrilous Hamas falsehoods that has been permeating the media, college campuses and elsewhere.
Hamas and its collaborators are especially targeting college students this fall; ZOA is and will be there, spreading the truth.
The need for truthful information about Hamas's war crimes and about Israel's remarkable efforts to avoid civilian casualties was underscored recently when the Foreign Press Association ("FPA") issued a formal protest "protest[ing] in the strongest terms the blatant, incessant, forceful and unorthodox methods employed by the Hamas authorities and their representatives against visiting international journalists in Gaza."  The FPA noted that Hamas "harassed, threatened or questioned" foreign reporters working in Gaza.  Norwegian journalist Paul Jørgensen also recently confirmed Hamas' "strict orders" not to document Hamas's violence.   Moreover, the head of foreign relations in Hamas's "Information Ministry," Hamas spokeswoman Isra Al-Mudallal, even admitted on Lebanon satellite TV that Hamas interrogated and deported journalists who filmed missile launch sites if the journalists refused to change their stories. 
ZOA National President Morton A. Klein said:
"Louis Brandeis, the former U.S. Supreme Count Justice who also served as a former president of the Zionist Organization of America, said: 'truth is the best disinfectant.'  The truth needs to be told about Hamas's war crimes.  Israel acted in an exemplary humane manner, unknown in the history of warfare, while fighting to defend innocent Israelis from Hamas's constant bombardment.  Hamas and its collaborators are especially targeting college students this fall; ZOA is and will be there, spreading the truth.
Please click here for a copy of "The Truth About HAMAS's War Against Israel." 
In addition, if you need hard copies for your group, please contact Debra Benjamin, Esq. at dbenjamin@zoa.org or at 212 481-1500.
---
FOLLOW ZOA
---