Morton Klein gives a brilliant presentation on the effects of Islam on popular culture and dispels the myths of "Islamophobia".
This video is from the speaker series which took place on August 31st at the Luxe Hotel on August 31st in Los Angeles as part of the "Can Islam Coexist with Western Civilization" series.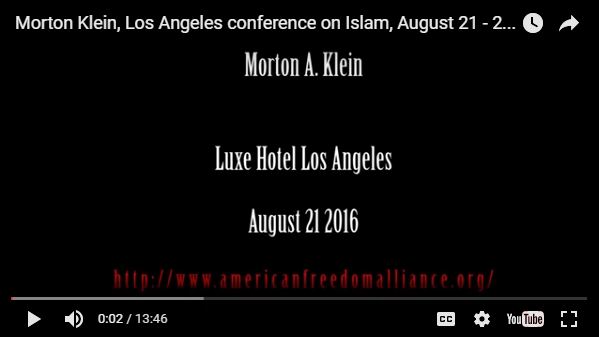 Morton's full bio as presented by the conference:
Morton A. Klein is President of the Zionist Organization of America (ZOA) and a member of the National Council of AIPAC. He served as an economist in the Nixon, Ford, and Carter Administrations, and was a biostatistician at UCLA School of Public Health and the Linus Pauling Institute of Science and Medicine. He has also been a lecturer in mathematics and statistics at Temple University.
Center for Law & Justice
We work to educate the American public and Congress about legal issues in order to advance the interests of Israel and the Jewish people.
We assist American victims of terrorism in vindicating their rights under the law, and seek to hold terrorists and sponsors of terrorism accountable for their actions.
We fight anti-Semitism and anti-Israel bias in the media and on college campuses.
We strive to enforce existing law and also to create new law in order to safeguard the rights of the Jewish people in the United States and Israel.
Our Mission
ZOA STATEMENT
The ZOA speaks out for Israel – in reports, newsletters, and other publications. In speeches in synagogues, churches, and community events, in high schools and colleges from coast to coast. In e-mail action alerts. In op-eds and letters to the editor. In radio and television appearances by ZOA leaders. Always on the front lines of pro-Israel activism, ZOA has made its mark.