Click on image to access video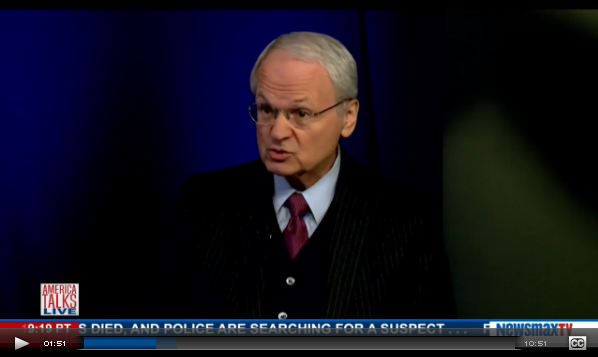 Donald Trump plans to move the U.S. Embassy in Israel from Tel Aviv to Jerusalem — an official recognition by America of the Jewish state's capital, Morton Klein, president of the Zionist Organization of America, tells Newsmax TV.
"His advisers who are friends of mine tell me that he would really move the embassy to Jerusalem," Klein, who served as an economist in the Nixon, Ford, and Carter Administrations, said Thursday to Steve Malzberg on "America Talks Live."
Klein noted both Presidents Bill Clinton and George W. Bush made similar promises to move the U.S. embassy, which first opened in Tel Aviv in 1966. But he emphasized that Trump has written the "most pro-Israel policy statement in history."
"He opposes the establishment of a Palestinian state. He says because this will be a terrorist state they promote hatred and violence in their schools, in their media and in their speeches. They name schools and streets and sports teams after Jew-killing terrorists," Klein said.
Klein added that Mahmoud Abbas, president of the State of Palestine and Palestinian National Authority, gives pensions to the families of suicide bombers and "the more Jews they murder, the higher their pension. Can you believe this?"
Trump said if the U.N. continues to promote these lies against Israel and bigotry against Israel like Jerusalem is not holy to Jews, he's going to cut funds to the U.N.
Jerusalem's status as Israel's capital has long been in dispute because Palestinians insist it serve as the capital of their future state as well.
But Klein insisted the city has no special significance to the Palestinians.
"Jerusalem is not holy to Muslims. This is a propaganda lie. 'The holy text mentioned Jerusalem 700 times.' The Koran, the Islamic holy text, never mentions Jerusalem a single time," Klein explained.
"If it's so holy to them, why does their holiest book never mention Jerusalem and why from '48-'67 when they controlled all of eastern Jerusalem, why did they allow it to become a slum?
"There was no running water, no electricity, no plumbing. They destroyed the 58 synagogues and they made their capital in Iman not in Jerusalem."
Klein said he is also confident that Trump will take a tough position against the United Nations, which has insisted that some of the Jewish people's holiest sites have nothing to do with Judaism.
"Trump said if the U.N. continues to promote these lies against Israel and bigotry against Israel like Jerusalem is not holy to Jews, he's going to cut funds to the U.N.," he told Malzberg.
In addition, Klein said Trump is ready to take action in any violation of the Iranian nuclear deal.
"The International Atomic Energy Association, this very morning announced that Iran is violating again. They're bringing in more nuclear-type equipment for nuclear bombs against the deal," Klein said.
"President-elect Trump has said he will establish new sanctions, increase sanctions if this continues and that he will, if necessary … make it clear to them that we'll use any means possible to make sure you do not get nuclear weapons. That means even threatening militarily.
"All you need is the threat of military action and this will scare the heck out of the Iranians because they'll believe and understand that he means it and he will allow Israel to do what they think appropriate militarily, so Iran will no longer have the protections they had before. So he can scare them into finally maybe complying with this deal."
Klein is the German-born son of Holocaust survivors.
To watch the video of Mort Klein on Newsmax TV click here.
Center for Law & Justice
We work to educate the American public and Congress about legal issues in order to advance the interests of Israel and the Jewish people.
We assist American victims of terrorism in vindicating their rights under the law, and seek to hold terrorists and sponsors of terrorism accountable for their actions.
We fight anti-Semitism and anti-Israel bias in the media and on college campuses.
We strive to enforce existing law and also to create new law in order to safeguard the rights of the Jewish people in the United States and Israel.
Our Mission
ZOA STATEMENT
The ZOA speaks out for Israel – in reports, newsletters, and other publications. In speeches in synagogues, churches, and community events, in high schools and colleges from coast to coast. In e-mail action alerts. In op-eds and letters to the editor. In radio and television appearances by ZOA leaders. Always on the front lines of pro-Israel activism, ZOA has made its mark.