| | | |
| --- | --- | --- |
| | July 27, 2017 | |
ZOA Criticizes Middle East Quartet Anti-Israel Bigotry – ZOA Calls for US to Disband Quartet
July 27, 2017
SHARE THIS WITH YOUR FRIENDS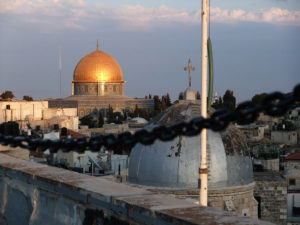 The Zionist Organization of America (ZOA) has strongly criticized this week's statement on the Palestinian terrorist acts and subsequent tumult on Jerusalem's Temple Mount by the Middle East Quartet (the European Union, Russia, the United Nations and the US), which failed to name the Palestinian Arab terrorist instigators, issued an absurd call for restraint on both sides, and failed to support legitimate and timely Israeli security measures, like installing metal detectors to screen all people, regardless of religion, race or background, entering the Temple Mount. 
In its statement, the Quartet said that it "strongly condemn acts of terror," but neither identified the Palestinian Arab terrorists who smuggled arms into the Al Aqsa Mosque atop Temple Mount, thereby violating the sanctity of the site, then used these arms to murder two Israeli policemen in a premeditated attack; nor condemned the incitement for further violence and rioting by Palestinian Authority (PA) president Mahmoud Abbas.
"Until Palestinians cease being raised, educated and nurtured for war, jihad, murdering Jews and destroying Israel, nothing will avail the cause of peace and reconciliation."
The Quartet also "express[ed] their regret for all loss of innocent life caused by the violence," without identifying the Palestinian Arab perpetrators and Abbas regime for the blood-soaked violence and its encouragement, respectively, and its resultant human toll. It also called "on all [sides] to demonstrate maximum restraint," as if the Israeli side had any responsibility at all for initiating or prolonging the violence, when of course it had none ('Quartet Envoys' Joint Press Statement – July 22, 2017').
ZOA National President Morton A. Klein said, "The ZOA is strongly critical of yet another anti-Israel, biased statement on the terrorism and deaths in Jerusalem which fails to name its Palestinian Arab perpetrators and inciters. As such, this is, at best, a morally worthless statement.
"The ZOA has previously criticized other Quartet statements, like its factually false blaming of Jews living and building homes in Judea/Samaria for Palestinian Arab terrorism and refusal to make peace, when, of course, Jewish residence in the Jewish biblical heartland, as the ZOA has many times explained in great detail, is entirely legally and morally legitimate and constitutes no obstacle to a genuine peace, were Palestinian Arabs genuinely willing to conclude one, which they are not. 
"Until Palestinians cease being raised, educated and nurtured for war, jihad, murdering Jews and destroying Israel, nothing will avail the cause of peace and reconciliation. 
"Given this record, the ZOA calls for the US to withdraw from, and thus disband and strip of legitimacy, the Quartet.
"The ZOA has watched for years, hoping an elementary sense of responsibility and decency would lead the Quartet to hold the Palestinians to their never-fulfilled obligations to arrest terrorists, outlaw terrorist groups and end the incitement to hatred and murder in the PA-controlled media, mosques, schools and youth camps that feed terrorism.
"The Quartet subverted President George W. Bush's June 2002 vision of a new Palestinian leadership, untainted by terrorism and corruption, replacing the old PA leadership and creating a new, transparent, democratic and civil Palestinian society. The Bush plan had its own faults, but it at least recognized what needed to be done on the Palestinian side. In contrast, the 2003 Roadmap peace plan called for swift Israeli concessions ahead of any Palestinian reforms. This was a formula for releasing the PA from all need for compliance on terrorism and incitement and indeed there has been no progress since that date.
"It is clear that a PA that refuses do these things is is an enemy of peace –– yet one will look in vain for a word of criticism or censure from the Quartet. 
"President Trump promised to revise US policy from one that indicts Israel to one with supports Israel. While this has been happening at the UN under Ambassador Nikki Haley –– and the ZOA takes this opportunity again to applaud Ambassador Haley's sterling efforts –– maintaining US membership in the Quartet flatly contradicts and subverts this admirable aspiration. 
"The Quartet has been, and remains, a failure and disgrace. President Trump should withdraw the US from the Quartet without further delay."
---
FOLLOW ZOA
---