| | | |
| --- | --- | --- |
| | May 17, 2018 | |
ZOA Praises Arab/Muslim Bahrain for Supporting Israel's Right to Defend Itself
May 17, 2018
ZOA Praises Bahrain for Supporting US Withdrawal from Catastrophic Iran Deal
SHARE THIS WITH YOUR FRIENDS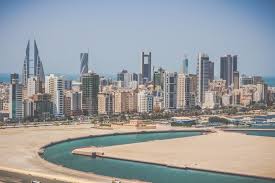 The ZOA thanks and praises Arab/Muslim country of Bahrain and Bahraini Foreign Minister Khalid bin Ahmed Al Khalifa for standing up for Israel's right to defend herself from Iran's forces and missiles.
At the ZOA Washington Mission Congressional luncheon on Wednesday (May 9), Senator Ted Cruz said, half-jokingly, that maybe former President Obama deserved the Nobel Peace Prize retroactively, because by agreeing to the catastrophic Iran deal, Obama achieved the incredible feat of getting Israel and the Arab states together, to agree on the dangers of Iran.  Later that same day, Iran's Revolutionary Guards' Quds Force shot 20 Iranian Grad and Fajr-5 rockets at Israel, some of which were intercepted by Israel's Iron Dome system; the rest fell short of Israeli territory.  Israel promptly defended herself by hitting more than 50 Iranian targets in Syria, including the vehicle from which the Iranian Quds force had launched the rockets at Israel.  ("Israel Attacks More Than 50 Iranian Targets In Syria After Iran Targets Israeli Bases," Yoav Zitun, Reuters, YNet News, Mar. 10, 2018.)
The very next day, we saw a great example of the Arab-Israeli agreement that Senator Cruz had spoken about: Bahrain's Foreign Minister Khalid bin Ahmed Al Khalifa tweeted that so long as Iran uses its forces and missiles to try and destabilize the region, "it is the right of any country in the region, including Israel, to defend itself by destroying sources of danger."  (See @khalidalkhalifa– May 10, 2018 tweet; and "Bahrain: Israel Has 'Right' to Respond to Iran," YNet News (with AP & Reuters), May 10, 2018.)  The ZOA praises Bahrain and Minister Al Khalifa for recognizing Israel's right to defend herself.
Bahrain's Foreign Minister Khalid bin Ahmed Al Khalifa tweeted that so long as Iran uses its forces and missiles to try and destabilize the region, "it is the right of any country in the region, including Israel, to defend itself by destroying sources of danger."
Bahrain likewise demonstrated this confluence of Arab and Israeli and U.S. interests on May 8, after President Trump ended U.S. participation in the unacceptable Iran deal.  The Bahraini Foreign Ministry's official website supported President Trump's action, and urged other JCPOA participants to also end their participation in the Iran deal, saying: 
"The Kingdom of Bahrain supports the decision of the President of the United States of America, Donald J. Trump, to withdraw from the nuclear agreement with Iran and to re-impose severe sanctions against the Iranian regime. This decision reflects the commitment of the United States to confront Iranian policies and Iran's continuous attempts to spread terrorism in the region in full violation of international norms and laws. The agreement was characterized by several shortcomings, most important of which was not addressing Iran's ballistic missile program, nor Iran's threat to the security and stability of the region through its interference in the internal affairs of other countries as well as its support for militias in these countries. . . . The Kingdom of Bahrain also calls upon all other signatories to the agreement to consider the security and peace of the region and to take steps similar to those of the United States of America. . . ."  ("The Kingdom of Bahrain Supports the Decision of the President of the United States to Withdraw From the Nuclear Agreement with Iran," Bahrain Foreign Ministry, May 8, 2018.)
In addition, Minister Khalifa issued a series of tweets supporting the withdrawal from the Iran deal including: 
"The Iranian nuclear agreement . . . was a flawed agreement that unleashed the hands of Iran to tamper with the security and stability of the region.  And today it fell and thank God."  (@khalidalkhalifa, May 8.)  
"Iran says the United States is denouncing the vows! We have many treaties with the United States dating back long decades and none [were broken].  We saw the reversal of vows and lies and conspiracy from the untrusting Iranian regime."  (@khalidalkhalifa, May 8.)  
"Bahrain supports and welcomes a great leadership stance by President Donald Trump in favor of the security and stability of the world by withdrawing from Iran's nuclear agreement and tightening the sanctions on the Iranian regime."  (@khalidalkhalifa, May 8.)  
---
FOLLOW ZOA
---