Enclosed is Translation of Germany's largest newspaper BILD article on Ambassador Grenell as "Winner of the Day" for receiving the Zionist Organization of America's (ZOA) Dr. Bob Shillman Award for Outstanding Diplomacy at ZOA's Gala Nov. 4 at the Marriott Marquis in NYC. Other honorees included NSC Advisor Amb. John Bolton, who received the Dr. Miri and Sheldon Adelson Award for Defense of Israel, Fox TV and CBS radio talk show host and NY Times best selling author Mark Levin. Speakers included Israel's Prime Minister Benjamin Netanyahu (by video), Harvard Law professor emeritus Alan Dershowitz, Israel's Amb. to UN Danny Danon.  ZOA president Morton Klein also spoke and received the Theodore Herzl Award for 25 years of service to ZOA. Kimberley Guilfoyle was the Emcee. 
Translation: "A Huge Honor for U.S. Ambassador to Berlin, Richard Grenell (52). He was presented with the "Shillman Award for Outstanding Diplomacy" by the Zionist Organization of America (ZOA). Grenell: 'With incidents of antisemitism on the rise in Germany, Europe and America, we must be vigilant in combating anti-Semitism in all its forms.' BILD says: Congratulations!"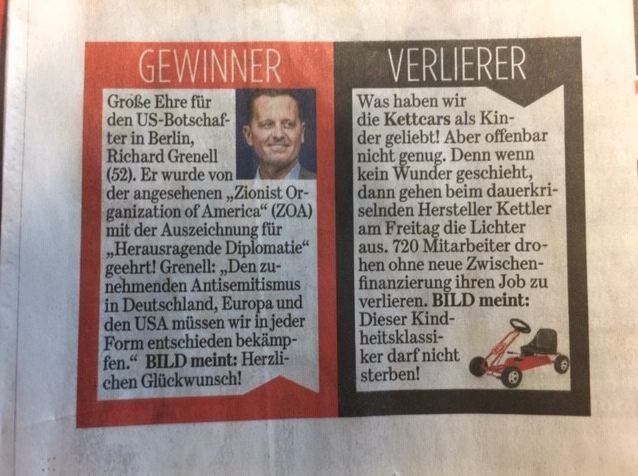 Our Mission
ZOA STATEMENT
The ZOA speaks out for Israel – in reports, newsletters, and other publications. In speeches in synagogues, churches, and community events, in high schools and colleges from coast to coast. In e-mail action alerts. In op-eds and letters to the editor. In radio and television appearances by ZOA leaders. Always on the front lines of pro-Israel activism, ZOA has made its mark.
Center for Law & Justice
We work to educate the American public and Congress about legal issues in order to advance the interests of Israel and the Jewish people.
We assist American victims of terrorism in vindicating their rights under the law, and seek to hold terrorists and sponsors of terrorism accountable for their actions.
We fight anti-Semitism and anti-Israel bias in the media and on college campuses.
We strive to enforce existing law and also to create new law in order to safeguard the rights of the Jewish people in the United States and Israel.