| | | |
| --- | --- | --- |
| | January 30, 2019 | |
ZOA Condemns Rep. Omar's (D-MN) Latest Promoting Lower Sentences for ISIS Recruits & Hypocritically Opposing Sanctions on Venezuela Yet Supporting BDS
January 30, 2019
ZOA Respectfully Requests ADL Reconsider and Retract its Praise of Rep. Omar
SHARE THIS WITH YOUR FRIENDS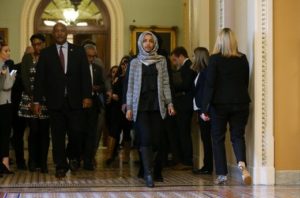 Zionist Organization of America (ZOA) President Morton Klein released the following statement:
Congresswoman Ilhan Omar (D-MN) has "done it again." In just the three days since ZOA completed our recent lengthy article describing Ilhan Omar's continuing history of vile, Jew-hating, Israel-hating, pro-BDS, compassionate-to-ISIS-recruits statements, positions and tweets, (See "ZOA Disagrees With ADL's Greenblatt's Praise/Acceptance of Phony Apology of Antisemitic Israel-Hater Rep. Omar (D-MN)," Jan 28, 2019), Rep. Omar has yet again displayed her hatred for Israel and Jews and "compassion" for the killers and rapists of ISIS, specifically:
Mystifyingly, ADL CEO and National Director Jonathan Greenblatt profusely praised Rep. Omar, tweeting: "Hats off to Rep Omar for her…commitment to a more just world."
• First, on January 27, 2019, Rep. Omar retweeted a tweet reiterating Rep. Omar's 2016 letter to a federal judge seeking reduced sentences for convicted Somali Muslim ISIS recruits. Rep. Omar retweeted: "@DMogahed. When @IlhanMN called for restorative justice in these cases [reduced sentences for Somali ISIS recruits convicted in Minnesota], she was demanding fairness, not favors. Muslim-perceived defendants get 4X the prison time for foiled ideologically motivated crimes as white supremicsts [sic] accused of same."
Note also that this retweet referred to convicted Muslim terrorists as "perceived defendants," and downplayed Islamist terror as "ideologically motivated crimes."
• Second, on January 28, 2019, Ilhan Omar tweeted her opposition to targeted sanctions against Venezuela's despotic, disputed Maduro communist regime's state-owned oil holdings, saying: "Trump's new sanctions on Venezuela are nothing more than economic sabotage designed to force regime change by starving the very people we claim to be helping. We must lift these, & other sanctions impacting Venezuela's poor, & support dialogue between the opposition & government." Would Omar have opposed sanctions against South Africa intended to change the racist South African government! Sanctions against Venezuela are intended to free the Venezuelan people from a tyrannical communist oppressive regime.
Yet, the next day (January 29, 2019), Rep. Omar retweeted two statements opposing fighting boycotts against Israel by opposing anti-BDS legislation… Omar retweeted the false statement "banning boycotts is un-American . . . It violates the First Amendment." In fact, anti-BDS legislation merely prohibits anti-Jewish economic activity; such legislation does not impinge on free speech and does not violate the First Amendment – those who may be pressured into not boycotting America's most reliable ally Israel can still criticize Israel anytime they wish. Rep. Omar also retweeted the snarky tweet: "Advancing yesterday's S.1 [anti-] BDS related legislation might seem like a victory for Israel, but it's actually a pretty significant loss. Because only 1 serious presidential candidate voted for it."
Rep. Omar has thus once again hypocritically falsely complained that targeted sanctions against the tyrannical Maduro regime's financial interests hurt innocent people – while supporting antisemitic anti-Israel sanctions that really hurt innocent Jews and Israelis and Palestinians and Americans.
Yet, mystifyingly, ADL CEO and National Director Jonathan Greenblatt profusely praised Rep. Omar, tweeting: "Hats off to Rep Omar for her honest apology & commitment to a more just world. Open and respectful conversation will help us achieve this goal."
ZOA respectfully requests that ADL reconsider and retract its praise of antisemitic Israel-hating, BDS promoting, compassionate-to-ISIS-recruits Rep. Ilhan Omar.
---
FOLLOW ZOA
---