Posted by: Joel B. Pollak, Breitbart News
February 6, 2019
Breitbart: ZOA Slams ADL for Accepting Ilhan Omar's Non-Apology for Antisemitic Rhetoric
SHARE THIS WITH YOUR FRIENDS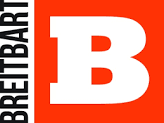 Omar, who is one of the first two Muslim women elected to Congress, tweeted in 2012, in the midst of conflict between Israel and Palestinian terrorists in Gaza: "Israel has hypnotized the world, may Allah awaken the people and help them see the evil doings of Israel." 

Her tweet has been criticized — especially since her arrival on the national political scene — for evoking classic antisemitic themes of Jewish control. (It remains live as of this writing.)
Earlier this month, when CNN's Christiane Amanpour asked Omar about the comment, Omar defended it, saying: "Watching TV and really feeling as if no other life was being impacted in this war, and that really, those unfortunate words were the only words I could think about expressing at that moment." (The next day, Speaker of the House Nancy Pelosi (D-CA) appointed Omar to the House Foreign Affairs Committee, despite that and other comments.)
The New York Times' Bari Weiss then took Omar to task in an op-ed essay titled, "Ilhan Omar and the Myth of Jewish Hypnosis," adding that Omar's words were a "conspiracy theory with ancient roots and a bloody history."
Omar then took to Twitter to acknowledge that her words were "offensive," and claimed not to have known that until her CNN interview.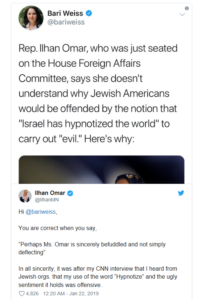 That is what the ADL's Greenblatt referred to as an "honest apology":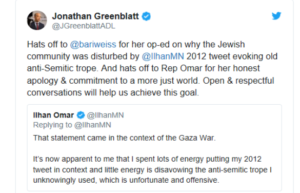 However, Omar never actually apologized, and her full thread reveals that she not only defiantly claimed to have been criticizing Israel instead of Jews, but that she saw herself as the victim of a campaign "designed to demonize and vilify me."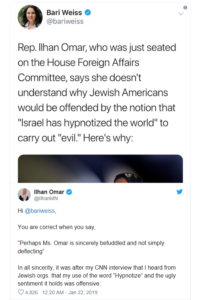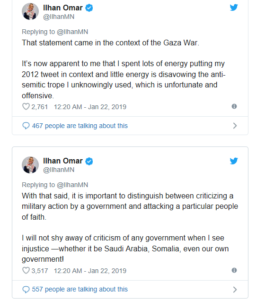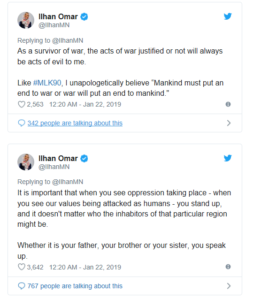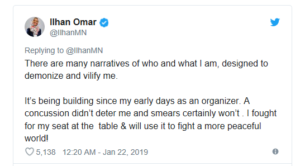 Instead of condemning Rep. Omar for her antisemitism, Israel-bashing, ISIS sympathizing, ADL's Greenblatt praised Omar saying "hats off to Rep Omar for her honest apology and commitment to a more just world."
In response, ZOA officials, including ZOA president Morton Klein, pointed out that Omar had not apologized:
"Rep. Ilhan Omar's "apology" was a belated, limited "non-apology" for one tiny part of Omar's numerous vicious, Israel-hating, antisemitic, compassion-for-Israel-hating-ISIS-convicts statements and positions. And egregiously, Ilhan Omar again falsely attacked Israel in the very same breath along with her phony, non-substantive "non-apology."  llhan Omar also never apologized for falsely calling Israel "evil" and an "apartheid regime," and for continuing to promote anti-Israel boycotts, divestment and sanctions (BDS) – and for lying to voters by making them falsely believe that she opposed BDS while she was running for Congress.  Additionally, Rep. Omar has never apologized for seeking reduced sentences for, and expressing "compassion" for anti-American, anti-Israel, murders and rapists ISIS recruits.  Clearly, Rep. Omar lacks credibility and her weak words of "apology" can't be taken seriously."
Last week, Omar backed the socialist regime of Nicolas Maduro in Venezuela, opposing what she called a "US backed coup" to install a "far right" opposition. The opposition leader, Juan Guaidó, is also a socialist.
---
FOLLOW ZOA
---