| | | |
| --- | --- | --- |
| | February 24, 2020 | |
ZOA Urges ADL: Apologize for Falsely Accusing Senator Ted Cruz of Antisemitism
February 24, 2020
SHARE THIS WITH YOUR FRIENDS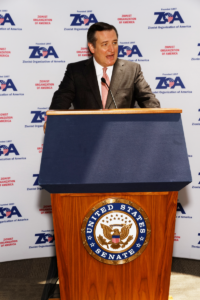 Zionist Organization of America (ZOA) President Morton A. Klein released the following statement:
The ZOA urges the Anti-Defamation League (ADL) to apologize for falsely accusing Senator Ted Cruz (R-TX) of antisemitism.  The Senator's innocent tweet about Mayor Bloomberg's media buys was not antisemitic.  Moreover, Senator Cruz is a major supporter, defender and friend of Israel, and has done and continues to do extraordinary work on behalf of the Jewish people – including leading Congressional efforts to combat antisemitism.   
At ZOA's Louis D. Brandeis annual gala awards dinner in 2014, Senator Cruz received the Dr. Bob Shillmanaward for Outstanding Pro-Israel Legislator.  Liberal Harvard Professor Alan Dershowitz presented this award, and spoke about how Senator Cruz walked out of a Defense of Christians Dinner earlier that year when Senator Cruz encountered deep hostility from some of the audience for the Senator's strong defense of Israel and the Jewish people.  Professor Dershowitz proclaimed:  "Had John F. Kennedy been writing Profiles in Courage today, this would have to be one of them." 
One of the greatest Jewish values is "Hakarat Hatov" – gratefulness, and recognition of the good someone has done.  The ADL's accusation was thus terribly wrong.   
Leveling these sorts of accusations at our friends who actually combat antisemitism is also deeply harmful to the effort to stamp out Jew-hatred.  JNS Editor-in-Chief Jonathan Tobin's featured column this week called ADL's accusation "the latest instance of the ADL undermining the fight against hate."   Like the ZOA, Tobin declared that Senator Cruz deserves an apology from the ADL.  ("Bloomberg's Money and the Anti-Semitism Defense," by Jonathan Tobin, JNS, Feb. 21, 2020.)
Notably, Senator Ted Cruz was one of the leaders of an excellent recent bipartisan resolution in the Senate condemning antisemitism – and Senator Cruz made sure to call out the fact that there is real antisemitism in Congress now.  Senator Cruz stated, when introducing the resolution:
"Today was Holocaust Remembrance Day in Israel.  It is a stark reminder that ancient antisemitic hatreds going back centuries, and aimed at the extermination of the Jewish people, extended and extend to our time. Antisemitism is on the rise around the world and here in America. In just the last few weeks, we have seen it manifested as hateful cartoons in major news publications, antisemitic smears in the halls of Congress, and murders at houses of worship. I urge my Senate colleagues to put aside partisan politics so we can come together as an institution and unequivocally condemn antisemitism."  ("Sens. Cruz, Kaine Lead Bipartisan Resolution Condemning Antisemitism," May 2, 2019.)
Senator Cruz was also immensely helpful to the longstanding efforts by Israel, ZOA, and others in the pro-Israel community to finally achieve U.S. recognition of Israel's sovereignty over the Golan Heights – a step that supports Israel's efforts to thwart genocidal Iranian attacks from Syria, and enhances the safety of millions of Israeli Jews.  Three months prior to the President's announcement of recognition, Senator Cruz, along with another great friend of the Jewish people, Senator Tom Cotton (R-AR), introduced an important Senate resolution resolving that: "Israel's sovereignty over the Golan Heights is critical to Israel's national security . . . it is in the United States' national security interest to ensure Israel's security . . . and the United States should recognize Israel's sovereignty over the Golan Heights." ("Sens. Cruz, Cotton Introduce Resolution Encouraging the United States to Recognize Israel's Sovereignty Over Golan Heights," Sen. Cruz press release, Dec. 18, 2018; See also "ZOA Praises Sen. Cruz & Cotton Resolution Supporting Israeli Sovereignty Over Golan Heights," Dec. 19, 2018.)
These are but two of many examples.  Indeed, on virtually every issue of concern to the American Jewish and pro-Israel communities, Senator Cruz had helped lead the way.  He truly deserves an apology from the ADL.
---
FOLLOW ZOA
---