| | | |
| --- | --- | --- |
| | March 6, 2020 | |
ZOA Criticizes Bernie Sanders for Legitimizing Antisemitism by Praising Jew-Hating Omar
March 6, 2020
SHARE THIS WITH YOUR FRIENDS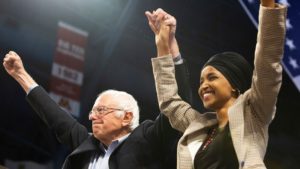 Zionist Organization of America (ZOA) president Morton A. Klein and Chairman Mark Levenson, Esq. released the following statement:
ZOA strongly condemns Democratic presidential candidate Senator Bernie Sanders of Vermont for helping to legitimize and mainstream Jew hatred and Israelophobia by egregiously calling anti-Semitic Rep. Ilhan Omar (D-MN) "One of the greatest people I know." Sanders proclaimed this at a pro-Sanders rally in Minnesota.
It is truly horrifying that Sanders would profusely praise Omar who has said:
The Jewish state is evil.
Jews have hypnotized the world to support Israel.
Jewish money (Benjamin's) is what buys support for the Jewish State.
Israel is an apartheid State.
She compared boycotting Israel to boycotting Nazi Germany.
She stated those supporting Israel are showing allegiance to a foreign country.
She condemns boycotting Cuba, Venezuela and Iran but supports boycotting Israel.
Compares South Africa to Israel.
She urged a judge to show compassion to convicted ISIS terrorists.
She refused to answer when asked if she supports Al-Qaeda.
Senator Sanders also has hired other Jew-hating Israelophobes to be official surrogates for him, including Linda Sarsour and Amer Zahr.
ZOA urges Senator Sanders to retract his ludicrous praise of Rep. Omar.
ZOA also urges other Jewish leaders, Rabbis and non-Jewish leaders to publicly criticize Sanders for his dangerous praise of a dangerous anti-Semite.
---
FOLLOW ZOA
---