| | | |
| --- | --- | --- |
| | May 28, 2020 | |
ZOA/Others Opposed Appt of Anti-Israel/Pro-BDS Dean, GWU Responds Appropriately
May 28, 2020
SHARE THIS WITH YOUR FRIENDS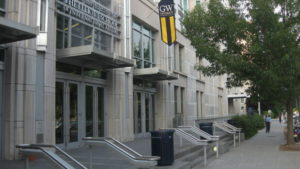 The Zionist Organization of America (ZOA) commends George Washington University (GW) for its response to strong objections by the ZOA and others to the university's appointment of Dr. Ilana Feldman as the interim dean of the Elliott School of International Affairs. Dr. Feldman has a record of outrageously and actively demonizing Israel and she supports the anti-Israel and anti-Semitic boycott, divestment and sanctions (BDS) movement, including boycotting Israeli academic institutions.
"While Feldman was a horrific and frightening choice to lead the Elliott School even on an interim basis, GW responded to the understandable outcry in the right and necessary way."
In a May 18, 2020 letter to M. Brian Blake, GW's Provost and Executive Vice President for Academic Affairs, the ZOA noted that even prior to the appointment, GW already had a serious anti-Semitism problem. Given her ugly anti-Israel record, Dr. Feldman's appointment would exacerbate the problem, the ZOA wrote, causing Jewish and pro-Israel students to "feel even more marginalized and afraid to express their Jewish identity and support for their ancestral homeland." The ZOA urged GW to consider its "legal obligation to provide Jewish students with a non-hostile learning environment, as required by Title VI of the Civil Rights Act" and rescind Feldman's appointment. The ZOA also organized other important GW contributors to campaign against Israel-Basher Feldman becoming the permanent Dean or having a role in the search committee 
On May 22, 2020, Provost Blake issued a letter to the GW community, which reflected that GW heeded the many concerns expressed about Dr. Feldman.
The Provost made it clear that: (1) GW opposes the anti-Israel BDS movement and Dr. Feldman must adhere to this anti-BDS policy; (2) GW does not tolerate anti-Semitism or any other form of discrimination; and (3) the search for a new dean of the Elliott School is underway, and Dr. Feldman will not be a candidate or on the search committee.
ZOA National President Morton A. Klein, Chair Mark Levenson, Esq. and Director of ZOA's Center for Law and Justice, Susan Tuchman, Esq. praised GW's response, stating, "While Feldman was a horrific and frightening choice to lead the Elliott School even on an interim basis, GW responded to the understandable outcry in the right and necessary way. The ZOA commends the University for taking its legal obligations under Title VI seriously and taking steps to ensure that Jewish and pro-Israel students have the safe and welcoming environment that every student deserves."
---
FOLLOW ZOA
---