| | | |
| --- | --- | --- |
| | September 8, 2020 | |
ZOA Criticizes Kamala Harris' Jewish Husband's Silence While She Wrongly Calls Family Led By Antisemitic, Anti-White, Anti-Women, Farrakhan-Loving Jacob Blake, Sr. an "Incredible Family…Who Fights Racism."
September 8, 2020
SHARE THIS WITH YOUR FRIENDS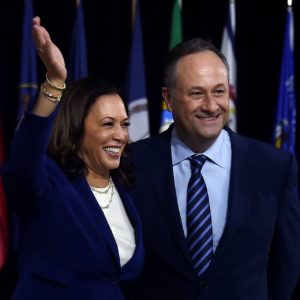 Zionist Organization of America (ZOA) President Morton A. Klein and ZOA Chair Mark Levenson, Esq. released the following statement:
ZOA criticizes Douglas Emhoff, Kamala Harris' Jewish husband, for remaining silent and not publicly objecting when Harris met with and wrongly praised the family led by antisemitic, anti-White, pro-Farrakhan, woman-hating James Blake, Sr. as an "incredible family" and urged Blake Sr. and his family "to continue to use their voice to end racism," even though Blake, Sr. is an antisemitic racist. 
Douglas Emhoff, especially as a Jew, should have urged his wife to exclude Jew-hating, Farrakhan-loving Blake, Sr. from the meeting. Emhoff also should have urged Senator Harris not to effusively praise this antisemitic Blake, Sr.-led family, and should have expressed concern about his wife calling the family an "incredible family." And how can Harris have asked the Blake, Sr. family to "continue to use their voice to end racism" when the head of the family is a despicable hater himself, promoting racism and antisemitism? Harris should have expressed sympathy without strongly praising this racist-led family. Douglas Emhoff's silence was deafening. As a Jew, why isn't he defending the Jewish people.
Blake Sr.'s absolutely horrendous posts (includes screenshots collected here and items found on Blake's Facebook page) have included:
Antisemitism:
"Warning for Jews in Pittsburgh no warning for gunman in Kentucky" (Oct. 27, 2018)
"A Jew can't tell me shit period." (Sept. 13, 2017)
"The same pink toe Jewish people that control the interest rate control the media they control Minds and money (Nov. 6, 2017)
"A cracker jew can do whatever to a white woman for years but let a jig try it"
"The Jewish media picks and chooses who is a terrorists and is not"
Anti-Christian (the second item is also misogynist):
Picture of Jesus in a toilet bowl (Dec. 21, 2018)
"Jesus ain't doing nothing for you miserable broads" (Apr. 22, 2019) 
Video of young Black boy saying "I'm tired of this church" followed by voice calling this beautiful (Apr. 22, 2019)
"Fuck the pedophilia church" (Apr. 17, 2019)
"The role of the Black church."  Includes video that includes "The Preacher's job is to keep you docile. . . . The role of the Black church is to keep you deaf, dumb and blind." (Apr. 17, 2019)
Anti-White Racism:
"One day pink toes will burn frfr" (May 3, 2019)
"It ok for crackers to be pedophiles crackhead heroin abusers pill poppers criminals of all types crack shitt" (Apr. 22, 2019)
Names for whites include "crackers" "Yackers" and "pink toes" (e.g., May 1, 2019)
"The pink toes that run Facebook are racist Yakaz (Apr. 30, 2019)
Anti-Black Racism:
"Young black coons" (Epithet directed at attendees of the Young Black Leadership Summit at the White House (Oct. 28, 2018)
See above anti-Black church items
Pro-Farrakhan:
I'm with Farrakhan 100" (May 3, 2019)
"Fu Facebook and Zuckerberg" (May 3, 2019) (when Farrakhan was banned)
Video of Farrakhan (e.g. Apr. 22, 2019)
---
FOLLOW ZOA
---