FOR IMMEDIATE RELEASE
November 12, 2020
NEW YORK – Zionist Organization of America (ZOA), America's oldest pro-Israel organization, announced that ICE CUBE (CUBE) – rapper, actor, filmmaker, screenwriter, composer and activist – will speak at the ZOA annual Virtual Superstar Gala on December 27, 2020.
"'I gotta say it was a good day'[1] when my friend Cube readily and happily agreed to speak at our ZOA Gala," said Morton Klein, National President of the Zionist Organization of America, quoting Cube's hit song.
Cube and Mort Klein became fast friends earlier this year, when Cube reached out to Mort Klein to help build bridges between the Black and Jewish communities.
What began as an email grew to a series of long, multi-hour phone conversations and then a four-hour personal meeting in Washington, D.C., at Cube's hotel suite. During their dialogue, Cube told Klein to tell anyone and everyone that he unequivocally rejected and condemned all antisemitism and affirmed that Israel has a right to exist as a Jewish state.
"When people found out I was meeting with Cube, some said 'you better check yo self before you wreck yo self,'[2]" reminisced Klein. "But I got to know Cube as a man, a leader, a talented entertainer, and as a good friend."
Cube will be introduced at the ZOA gala by his manager and partner Jeff Kwatinetz, COO of Cube Vision and a Brooklyn-born Jew and ardent Zionist who was in the same class as President Barack Obama at Harvard Law School. Cube starred in the film Anaconda with Academy Award-winning actor Jon Voight, who will also speak at the ZOA Virtual Superstar Gala on December 27.
"Cube and I have a lot in common," added Klein. "We are both committed fighters for civil rights and an end to racism and discrimination. We are also both unapologetic – and sometimes outside the mainstream – advocates for our communities." 
Cube's "Contract With Black America" launched him into the national political spotlight this year as his ideas and advocacy for his community became part of a national conversation. Cube discussed his Contract With Black America on numerous TV shows including CNN with Chris Cuomo, Fox Business Mornings With Maria Bartiromo, The Daily Show With Trevor Noah, and was Fox News Sunday's "Power Player" of the week with Chris Wallace.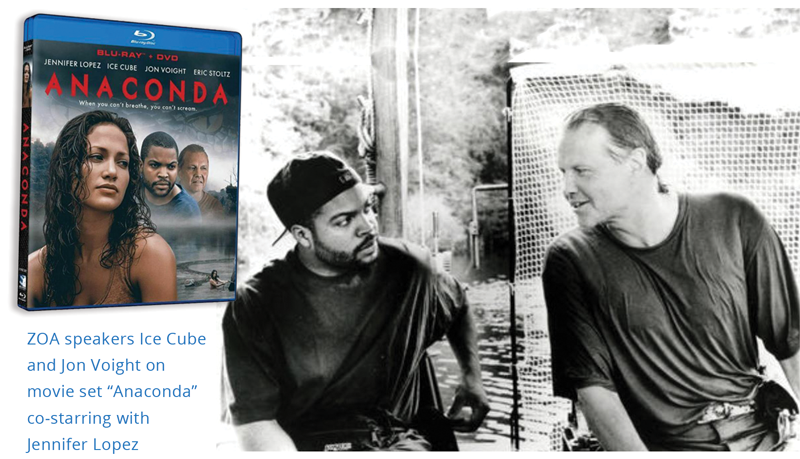 "As Zionists and advocates for the Jewish community, we can all learn from Cube how to capture attention and advocate for our people," added Mark Levenson, Esq., Chair of ZOA. "We all look forward to seeing and hearing from Cube and our other distinguished speakers at the ZOA Virtual Superstar Gala on December 27, 2020 at 7pm EST."
Details about the upcoming event are available at zoa.org/gala.
For more information, please contact:
Natalie Lazaroff, Esq.
National Director of Marketing and Communications
Zionist Organization of America (ZOA)
NLazaroff@zoa.org
---
[1] Ice Cube hit song, "It was a good day," 1992
[2] Ice Cube hit song, "Check Yo Self," 1993
Our Mission
ZOA STATEMENT
The ZOA speaks out for Israel – in reports, newsletters, and other publications. In speeches in synagogues, churches, and community events, in high schools and colleges from coast to coast. In e-mail action alerts. In op-eds and letters to the editor. In radio and television appearances by ZOA leaders. Always on the front lines of pro-Israel activism, ZOA has made its mark.
Center for Law & Justice
We work to educate the American public and Congress about legal issues in order to advance the interests of Israel and the Jewish people.
We assist American victims of terrorism in vindicating their rights under the law, and seek to hold terrorists and sponsors of terrorism accountable for their actions.
We fight anti-Semitism and anti-Israel bias in the media and on college campuses.
We strive to enforce existing law and also to create new law in order to safeguard the rights of the Jewish people in the United States and Israel.