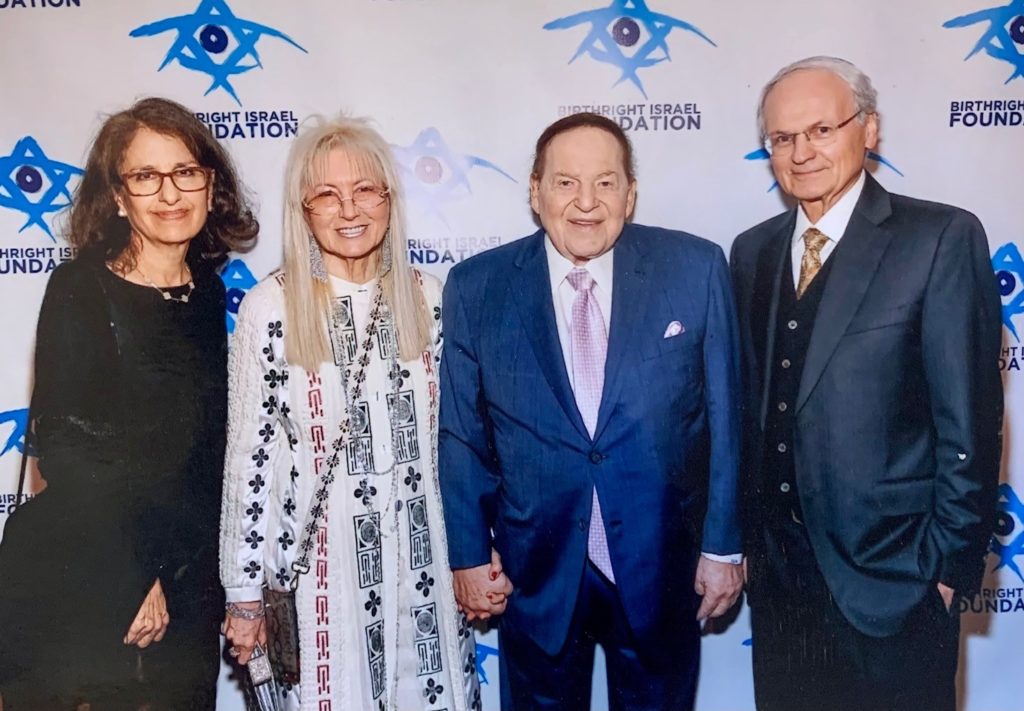 (L to R) Rita Klein, Dr. Miriam Adelson, Sheldon G. Adelson, and Morton A. Klein
It has now been a year since the world lost the extraordinary philanthropist and Zionist Sheldon G. Adelson, of blessed memory. It feels as if Sheldon was here only a moment ago, because his good and sacred works continue daily to inspire, educate, and promote a better world for America, for Israel, for Jews, and for all people. It's telling that even though Sheldon Adelson was a brilliant businessman extraordinaire, his own heroes were not great business stars, but were the world's great humanitarians and Zionists.
I met Sheldon G. Adelson at the national executive committee meetings of a major pro-Israel group. At these meetings, I typically presented about a dozen strong pro-Israel resolutions. Before I even knew him, Sheldon regularly stood up to support my resolutions. He gave powerful, important reasons why the resolutions should be approved and adopted. Sheldon's support and persuasive insights helped insure that most of these resolutions were adopted.
Afterward at one of these meetings, Sheldon walked over to me and said "I strongly and regularly agree with all of your resolutions. But I don't know who you are. Who the heck are you?" I responded that I'm Morton Klein, president of the Zionist Organization of America – And who the heck are you?" He said "I'm Sheldon Adelson." That was the start of a great friendship that I treasure and cherish to this day.
I remember some twenty years ago, sitting in Sheldon and Dr. Miriam Adelson's apartment in Tel Aviv, and telling them, after seeing what incredible Zionists they were, I and the ZOA want to establish the Dr. Miriam and Sheldon G. Adelson Defender of Israel Award. Sheldon's immediate response was, "No, I don't deserve it." That was but one example of the endearing humility of one of the world's most accomplished human beings. Not only did we establish the Adelson Award, but that year, ZOA was honored and privileged to present Sheldon G. Adelson with our rare and highest honor, normally reserved for prime ministers and presidents; the Theodore Herzl Gold Medallion. Previous recipients of this Award included David Ben Gurion and Winston Churchill. That year, ZOA was also honored to present Dr. Miriam Adelson with our distinguished Louis D. Brandeis Award, a gorgeous bust of Louis Brandeis. Previous distinguished recipients of this award included Elizabeth Taylor, Abba Eban, Supreme Court Justice Arthur Goldberg, and Mortimer Zuckerman.
The Adelsons were so worthy of the respect and appreciation people showed them. I'll never forget the call I received from Sheldon in November, 2015 while I was sitting with my wife at a restaurant in Poland (We were guests of the Polish Government), Sheldon told me he had just come from President-Elect Donald Trump's office at the Trump Tower in NYC. And President-Elect Trump just gave his word to the powerfully persuasive Zionist Sheldon G. Adelson that he would move the U.S. Embassy to Jerusalem. I excitedly told Sheldon that he is now unequivocally part of Jewish history. Thank you, Sheldon Adelson.
Because of Sheldon's and Miriam's generous help with many ZOA projects and campaigns, ZOA was, among other things, able to establish our National Center for Campus Activities, which combats anti-Israel propaganda on over 100 college campuses and trains students to be proud supporters of Israel and how to be defenders of Israel. ZOA's Campus Center, in conjunction with ZOA's Center for Law and Justice also had a breathtakingly important achievement – to successfully campaign for and change Title VI of the Civil Rights Act to include and protect Jewish students from discrimination and harassment. Thank you, Dr. Miri and Sheldon Adelson!
I will always remember my experience at an Asian restaurant with Sheldon in Los Angeles. The owner came over and said with great respect toward Sheldon that the meal is on the house – no charge. Sheldon said, "Thank you so much; But there is no need for that," and insisted on paying. The owner replied, "I can't take money from you. You've done so much good for the world with your generous support of medical research and support of our patriotic wounded warriors. That's payment enough."
My wife Rita and I miss Sheldon so much. Every time we came to his office in Las Vegas, Sheldon hugged us and frequently invited us to his home for dinner. The dinner conversation was always a delight. Sheldon and Miri are wonderful conversationalists with penetrating insights on so many topics.
It was also an absolute pleasure to see the love Sheldon had for his children and that they had for him. Whenever his children walked into a room where Sheldon was sitting, Sheldon immediately got up and gave them an all-embracing hug and a kiss. He would love to talk about his children's accomplishments and activities. Sheldon's children also told me how proud they were of their dad.
We are so fortunate and blessed that Sheldon's beloved wife, Dr. Miriam Adelson is continuing all of the magnificent work that Sheldon and Miri did as a couple. Sheldon would be, as he always was, so proud of his fabulous wife, who shared in all of their important and beneficial world-changing projects; while continuing her great work in addiction medicine (she's a Tel Aviv University and Rockefeller University-trained specialist) with centers that the Adelsons established in America and Israel. Dr. Miriam Adelson was also a driving force in establishing the new Dr. Miriam and Sheldon G. Adelson Medical School at Ariel University, in Ariel, Israel.
ZOA is deeply honored that Dr. Adelson introduced and presented the Dr. Miriam and Sheldon G. Adelson Defender of Israel Award to Secretary of State Mike Pompeo at ZOA's annual Gala in December. Miri spoke so movingly about how her beloved soulmate Sheldon would have loved to have been there, and how Sheldon took the right and courageous positions even if it meant going at it alone, and how the truth shines forth when true friendship is demonstrated, such as when Secretary Pompeo set the historical record straight at the ZOA Gala about Israel's rights to the ancient Jewish homeland; whether in Jerusalem, Judea and Samaria, or the Golan Heights.
The world will never be the same without Sheldon Adelson. And the world will never be the same because of Sheldon Adelson.
Sheldon, I love you; the Jewish people love you; and the Jewish people of Israel love you. I will always miss you. May you rest in heavenly peace.
Center for Law & Justice
We work to educate the American public and Congress about legal issues in order to advance the interests of Israel and the Jewish people.
We assist American victims of terrorism in vindicating their rights under the law, and seek to hold terrorists and sponsors of terrorism accountable for their actions.
We fight anti-Semitism and anti-Israel bias in the media and on college campuses.
We strive to enforce existing law and also to create new law in order to safeguard the rights of the Jewish people in the United States and Israel.
Our Mission
ZOA STATEMENT
The ZOA speaks out for Israel – in reports, newsletters, and other publications. In speeches in synagogues, churches, and community events, in high schools and colleges from coast to coast. In e-mail action alerts. In op-eds and letters to the editor. In radio and television appearances by ZOA leaders. Always on the front lines of pro-Israel activism, ZOA has made its mark.