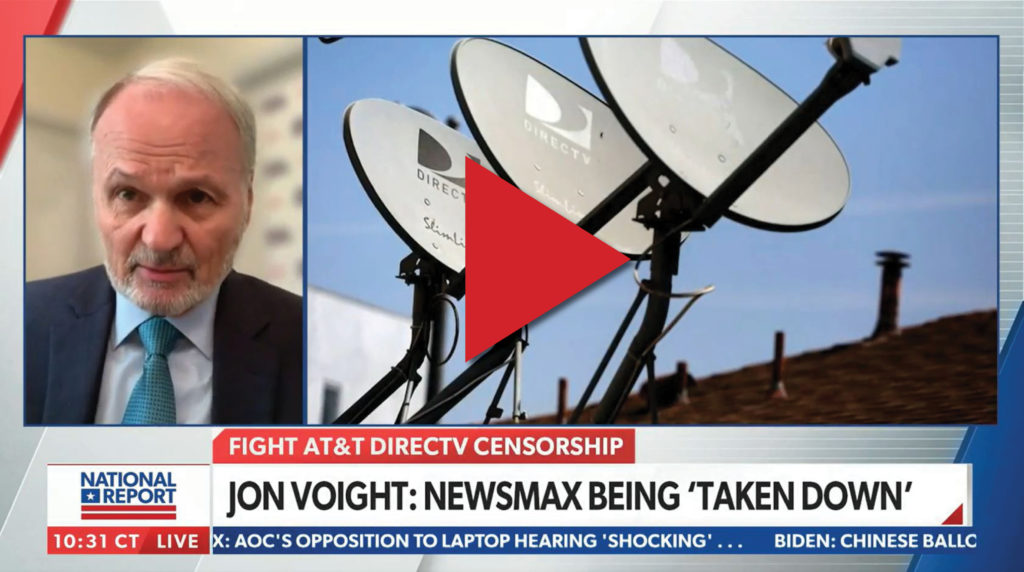 Mort Klein, national president of the Zionist Organization of America, told Newsmax Friday that he believes there is "a hint, at least, of antisemitism and Israel-bashing" in DirecTV's decision to cut Newsmax's signal two weeks ago.
"We're really, really concerned about this political bias and this immoral act because Newsmax is one of the few stations that regularly has positive, accurate stories about Israel and the Arab-Islamist war against the Jewish state [and] about antisemitism that's rising dramatically in America," Klein said during an appearance on Newsmax's "National Report." "Newsmax repeatedly has stories about this, unlike the other stations, which have far fewer.
"They've had stories on the truth of President [Joe] Biden's appointments to posts that affect Israel," he continued. "In fact, every single one of those appointments is someone hostile to Israel. So we think that there was a hint, at least, of antisemitism and Israel-bashing in this action to remove Newsmax, this important news outlet. And we wonder if there's pressure from the White House or [former President Barack] Obama or others to affect DirecTV's removal."
DirecTV customers call toll free at 877-763-9762 to complain, demand Newsmax is returned! Oppose censorship – sign The Petition – Click Here
DirecTV, which reported profits last year of $2.7 billion, deplatformed Newsmax on Jan. 24 in what the company claimed was a "cost-cutting" measure. That was the same reason given when it removed conservative OAN last April.
DirecTV has claimed Newsmax was demanding "excessive fees" that would cost them "tens of millions" of dollars.
Newsmax has denied these claims, saying it was seeking a fee of about $1 per cable subscriber per year, among the lowest fees requested in cable, and that the total amount of the deal was a fraction of "tens of millions."
Klein said he was "proud" to be one of several dozen Jewish leaders who signed a letter to AT&T and DirecTV "condemning" them for "removing two center-right media outlets, including Newsmax, but none of the 22 left-wing outlets."
"They're not being removed, even though most of them have lower ratings than Newsmax," he said. "This cancel culture, this abandonment of free speech is un-American. We urge everyone to be in touch with DirecTV and AT&T and urge them to reinstate Newsmax and the other conservative stations and threaten to cancel their subscriptions to DirecTV unless they do this. This cannot be tolerated in the United States of America."
When asked how Newsmax's coverage of Israel compares to other news channels, Klein said there was a noticeable difference.
"Other stations have almost no stories of importance to the pro-Israel Evangelical Christian Jewish community; and that's why such prominent Jewish leaders as [former] Sen. Joe Lieberman [I-Conn.], Alan Dershowitz [and former] Ambassador David Friedman have joined me in signing this letter demanding that DirecTV stop this bigoted, politically biased action: because we need Newsmax," he said.
Actions to Take Now
DirecTV customers call toll free at 877-763-9762 to complain, demand Newsmax is back on air!
Call your congressman or senator at 202-224-3121 and demand they stop AT&T/DirecTV's censorship of NEWSMAX — ask them to give you a date on the hearings!
Go to our online petition and get more info: iWantNewsmax.com.
This article was originally published in Newsmax and can be viewed here.
Center for Law & Justice
We work to educate the American public and Congress about legal issues in order to advance the interests of Israel and the Jewish people.
We assist American victims of terrorism in vindicating their rights under the law, and seek to hold terrorists and sponsors of terrorism accountable for their actions.
We fight anti-Semitism and anti-Israel bias in the media and on college campuses.
We strive to enforce existing law and also to create new law in order to safeguard the rights of the Jewish people in the United States and Israel.
Our Mission
ZOA STATEMENT
The ZOA speaks out for Israel – in reports, newsletters, and other publications. In speeches in synagogues, churches, and community events, in high schools and colleges from coast to coast. In e-mail action alerts. In op-eds and letters to the editor. In radio and television appearances by ZOA leaders. Always on the front lines of pro-Israel activism, ZOA has made its mark.