Zionist Organization of America (ZOA) head Morton Klein expressed support for tech titan Elon Musk's "concerns" after the outspoken billionaire threatened a "defamation" lawsuit against the left-wing Anti-Defamation League (ADL) over its alleged censorship efforts, with the ZOA claiming the ADL is "dangerous" to both Jews and Israel.
By Joshua Klein
(SEPTEMBER 6, 2023 / BREITBART)
Speaking with Breitbart News on Wednesday, Klein, who has headed the nation's oldest pro-Israel organization for nearly two decades, stated that he "sympathizes" with Musk — a self-declared free speech absolutist — and his "concerns about Jonathan Greenblatt's ADL."
"The ADL almost never condemns left-wing antisemites yet has defended radical left-wing Israel-hater and ADL-funder George Soros and praised Jew-hating Israel-basher Rep. Ilhan Omar (D-MN) for 'her commitment to a more just world,'" he noted.
The ZOA leader concluded by describing Greenblatt's and the ADL's "tendentious policies" as "harmful and even tremendously dangerous to the Jewish people and Israel."
Klein's remarks follow Musk's spat with the ADL which saw the Tesla CEO threatening retaliation against efforts by the infamous civil rights group to cut off ad revenue from X, formerly known as Twitter.
On Monday, Musk threatened the organization with a lawsuit and the disclosure of their communications with the company.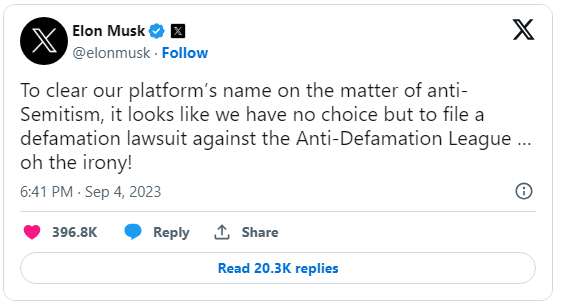 Previously, the fresh platform owner accused the ADL of having fought "very hard" for Twitter/X to suspend anti-woke accounts such as Libs of TikTok, even though the demands had nothing to do with allegations of antisemitism.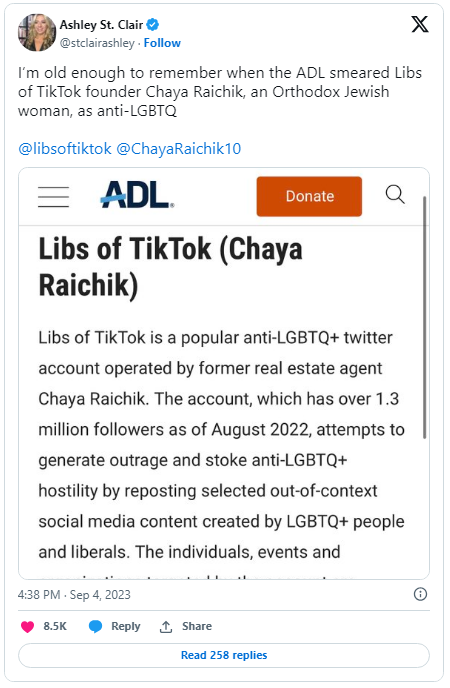 The ADL, currently run by former Obama staffer Greenblatt, is one the leading organizations pushing for censorship of online speech. It has long standing relationships with social media platforms and their advertisers, using the latter as a cudgel against the former when required.
The ZOA has called out the ADL for not living up to its supposed values on multiple occasions. Last year, the pro-Israel group called for a full "overhaul" of the ADL, along with the firing of Greenblatt, over the promotion of "woke leftism."
In 2020, it demanded the ADL speak out against Joe Biden for comparing President Donald Trump to a Nazi leader, after days of silence.
The longstanding, pro-Israel advocacy group also called out Greenblatt for falsely accusing Sen. Ted Cruz (R-TX) of antisemitism.
Previously, ZOA officials criticized Greenblatt for accepting an "apology" by Omar for past antisemitic rhetoric, when the Minnesota Democrat did not, in fact, apologize.
Joshua Klein is a reporter for Breitbart News.
This article was originally published in Breitbart and can be viewed here.
Center for Law & Justice
We work to educate the American public and Congress about legal issues in order to advance the interests of Israel and the Jewish people.
We assist American victims of terrorism in vindicating their rights under the law, and seek to hold terrorists and sponsors of terrorism accountable for their actions.
We fight anti-Semitism and anti-Israel bias in the media and on college campuses.
We strive to enforce existing law and also to create new law in order to safeguard the rights of the Jewish people in the United States and Israel.
Our Mission
ZOA STATEMENT
The ZOA speaks out for Israel – in reports, newsletters, and other publications. In speeches in synagogues, churches, and community events, in high schools and colleges from coast to coast. In e-mail action alerts. In op-eds and letters to the editor. In radio and television appearances by ZOA leaders. Always on the front lines of pro-Israel activism, ZOA has made its mark.