Posted by: Michael Goldblatt, chairman, board of directors, ZOA
October 31, 2013
ZOA Critical of Israel's Decision to Free a Further 26 Palestinian Terrorists
October 31, 2013
Israeli concession was not made in return for any Palestinian concession or moderation
SHARE THIS WITH YOUR FRIENDS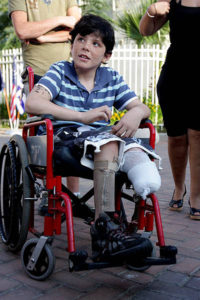 The Zionist Organization of America (ZOA) has criticized the Israeli government for proceeding with an earlier decision to free 26 convicted and jailed Palestinian terrorists from Israeli jails as part of a phased freeing of 104 such terrorists. The freeing of the terrorists, decided upon in July 2013 and strongly opposed by the ZOA at the time, came about as an Israeli concession –– not to in return for any Palestinian concession or moderation, but merely for the Mahmoud Abbas' Palestinian Authority (PA)'s agreement to meet Israelis at the negotiating table.
 ZOA National Chairman of the Board Dr Michael Goldblatt said, "We oppose this latest freeing of jailed, blood-soaked terrorists. 
 "The ZOA has long argued that freeing jailed terrorists in exchange for kidnapped Israelis rewards terrorists; makes a mockery of justice – and inflicts unimaginable pain on families of the victims – when murderers walk free; allows terrorists to go undeterred at the prospect of long prison sentences when experience confirms that they have a good chance of being released early; boosts the standing and morale of the most extreme Palestinian terrorist groups; encourages the kidnapping of Israelis for the purpose of extorting the release of further terrorists; and, worst of all, results in the subsequent murder of additional Israelis by terrorists freed under such deals.
 "The paramount duty of the state is to protect its citizens. It follows that the most important consideration for the Israeli government must be preventing the loss of further innocent lives to terror. That in turn means not freeing terrorists, not boosting the terrorist organizations that clamor for their release and not making one-sided concessions that stimulate the aggression of the Palestinian terror groups." 
"…Freeing jailed terrorists in exchange for kidnapped Israelis rewards terrorists… inflicts unimaginable pain on families of the victims."
 "This latest freeing of terrorists is a morally unjust, tactically unwise, strategically harmful, militarily hazardous and life-endangering unilateral concession."
 The ZOA has also noted the following:
---
FOLLOW ZOA
---