| | | |
| --- | --- | --- |
| | April 19, 2017 | |
ZOA Agrees: Sec. Tillerson Says Iran Deal "Only Delays Iran Getting Nuclear Weapons"
April 19, 2017
ZOA Urges Trump Admin: Take All Necessary Steps To Stop Iran From Becoming Nuclear Threshold State
SHARE THIS WITH YOUR FRIENDS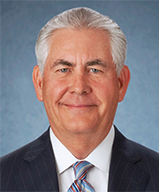 The Zionist Organization of America (ZOA) has applauded Secretary of State Rex Tillerson's statement today, in which he confirmed that Iran is violating the United Nations Security Council (UNSC) Resolution 2231 by its continued development and testing of ballistic missiles and that the Joint Comprehensive Plan of Action (JCPOA), the nuclear deal with Iran negotiated by the Obama Administration and the P5+1 powers, "fails to achieve the objective of a non-nuclear Iran… only delays their goal of becoming a nuclear state."
The ZOA is urging the Trump Administration to take whatever steps are necessary to prevent Iran becoming a nuclear threshold state.
In his statement this afternoon, Secretary Tillerson said, 
The Trump Administration acknowledges that the Iran deal is a catastrophe. Iran violated UN resolutions by developing/testing missiles, and will fail to achieve objective of non-nuclear Iran. 
"Iran's nuclear ambitions are a  grave risk to international peace and security … With its latest test of a medium range ballistic missile, Iran's continued development and proliferation of missile technology is in defiance of UNSC Resolution 2231. And it has previously stated that it will conduct a second test flight of the Samorra space launch vehicle, which would put it closer to an operational intercontinental ballistic missile … The JCPOA fails to achieve the objective of a non-nuclear Iran. It only delays their goal of becoming a nuclear state. This deal represents the same failed approach of the past that brought us to the current  imminent threat we face from North Korea. The Trump Administration has no intention of passing the buck to a future Administration on Iran. The evidence is clear – Iran's provocative actions threaten the United States, the region and the world" ('Secretary TillersonMakes a Statement on Iran,' April 19, 2017).
ZOA National President Morton A. Klein said, "We applaud Secretary Tillerson's statement.
"With this statement, the Trump Administration acknowledges that the Iran deal is a catastrophe in that it will not achieve the stated goal –– set down in the JCPOA's preamble –– of stopping Iran from becoming a nuclear power.
"It also confirms that Iran is violating its commitment under UNSC Resolution 2231 of not engaging in prohibited ballistic missile technology development and testing that would enable it to deliver the nuclear weapons it is on the path to obtaining. Sec. Tillerson also acknowledged that Iranian missiles on display today have written on them the words, "death to Israel."
Furthermore, he said, Iran is a threat to the entire world, that wherever there are problems in the Mideast- Iran has a hand in it, and Iran is the biggest sponsor of terrorism in the world. They especially aid Israel's terrorist enemies in the Mideast, Tillerson declared. 
"We therefore urge the Trump Administration, which is presently reviewing the entire Iran policy it has inherited, to take whatever steps are necessary to prevent Iran from becoming a nuclear threshold state. Every possible action must be on the table."
---
FOLLOW ZOA
---