'I have instructed the chancellor to initiate (the moving of the embassy),' said President Morales.
The Palestinians declared Guatemalan President Jimmy Morales's decision to move his country's embassy in Israel from Tel Aviv to Jerusalem as "shameful" on Monday, whilst Israeli Prime Minister Benjamin Netanyahu praised the announcement that follow US President Donald Trump's lead.
"It's a shameful and illegal act that goes totally against the wishes of church leaders in Jerusalem" and of a non-binding UN General Assembly resolution condemning the US recognition, the Palestinian foreign ministry said in a statement.
Klein also claims that those countries intending to move their embassies to Jerusalem have concluded that the Palestinian Authority (PA) is not interested in a resolution to the Israeli-Palestinian conflict, making irrelevant any delay of transferring their respective embassies to Jerusalem.
"The state of Palestine considers this as a flagrant act of hostility against the inalienable rights of the Palestinian people and international law," it said.
"The state of Palestine will act with regional and international partners to oppose this illegal decision."
Meanwhile, at the start of his Likud party meeting Netanyahu declared, "we are waiting for you here in Jerusalem!"
"I told you recently that there will be other countries that will recognize Jerusalem and announce the transfer of the embassy to it," he urged. "So here it comes the second state – and I repeat: there will be more!"
"God bless you my friend, President Morales! God bless both our countries – Israel and Guatemala," he concluded.
The day before President Morales, following a conversation with the Israeli Prime Minister, declared he would initiate the embassy relocation.
"Dear people of Guatemala, today I spoke with the prime minister of Israel, Benjamin Netanyahu," Morales wrote on Sunday. "We are talking about the excellent relations that we have had as nations since Guatemala supported the creation of the state of Israel."
"One of the most important topics was the return of the embassy of Guatemala to Jerusalem," he continued. "So I inform you that I have instructed the chancellor to initiate the respective coordination so that it may be."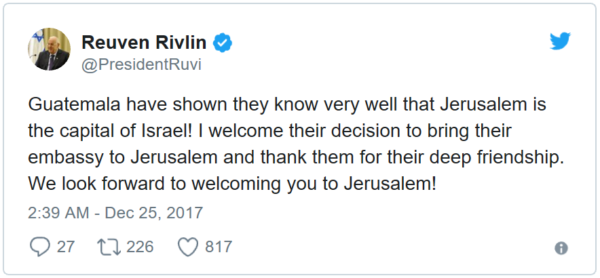 Israeli President Reuven Rivlin welcomed the pledge on Sunday, thanking them for their "deep friendship".
"Guatemala have shown they know very well that Jerusalem is the capital of Israel! I welcome their decision to bring their embassy to Jerusalem and thank them for their deep friendship. We look forward to welcoming you to Jerusalem!" Rivlin wrote on Twitter.
Israeli foreign ministry spokesman Emmanuel Nahshon also thanked Guatemala for the "important decision" and hailed the countries' "true friendship".
Guatemala was one of nine countries to vote against a resolution in the United Nations General Assembly rejecting Trump's recognition of Jerusalem as Israel's capital. President Morales explained at a news conference, in Guatemala City on Friday, his country's decision to take a stand alongside the US and Israel.
The announcement, made approximately around midnight in Israel, drew praise on Monday from Israeli officials and politicians across the political spectrum.
The pro-Israel Zionist Organization of America was quick to strongly applaud the decision of President Morales to move the embassy back to Jerusalem.
"The Zionist Organization of America (ZOA), the oldest pro-Israel organization in America, strongly praises President Morales of Guatemala for moving the embassy to Jerusalem, which has never been a capital of any nation but Israel," the organization said in response.
ZOA's president, Morton Klein who spoke with i24NEWS shortly thereafter, said that he expects other countries to follow Guatemala in moving their respective embassies in Israel to the Israeli capital.
"There are other countries that have hinted at moving their embassies such as Honduras, Romania and the Czech Republic," he told i24NEWS.
Klein believes that Trump's announcement officially recognizing Jerusalem as a the capital of Israel was a necessary trigger for other countries to move their embassies now.
"Without the United States planning to move its embassy, it would have taken these countries a lot longer to do so," he said.
Klein also claims that those countries intending to move their embassies to Jerusalem have concluded that the Palestinian Authority (PA) is not interested in a resolution to the Israeli-Palestinian conflict, making irrelevant any delay of transferring their respective embassies to Jerusalem.
"If they really felt that the Palestinian Authority wanted peace with Israel and that Jerusalem was holy to Muslims, they would not have done so," he added. "They realize that if they will just wait for a peace agreement, it may never happen."
On Friday, Morales foreshadowed the decision he was to make regarding Jerusalem, as he defended his government's vote at the UN backing the United States.
"Guatemala is historically pro-Israeli," he told a news conference in Guatemala City. "In 70 years of relations, Israel has been our ally," he said.
"We have a Christian way of thinking that, as well as the politics of it, has us believing that Israel is our ally and we must support it. Despite us only being nine in the world (in the UN vote), we have the total certainty and conviction that this is the right path."
Original article can be found here: https://www.i24news.tv/en/news/israel/diplomacy-defense/163520-171225-guatemala-s-president-morales-announces-move-of-embassy-in-israel-to-Jerusalem 
Our Mission
ZOA STATEMENT
The ZOA speaks out for Israel – in reports, newsletters, and other publications. In speeches in synagogues, churches, and community events, in high schools and colleges from coast to coast. In e-mail action alerts. In op-eds and letters to the editor. In radio and television appearances by ZOA leaders. Always on the front lines of pro-Israel activism, ZOA has made its mark.
Center for Law & Justice
We work to educate the American public and Congress about legal issues in order to advance the interests of Israel and the Jewish people.
We assist American victims of terrorism in vindicating their rights under the law, and seek to hold terrorists and sponsors of terrorism accountable for their actions.
We fight anti-Semitism and anti-Israel bias in the media and on college campuses.
We strive to enforce existing law and also to create new law in order to safeguard the rights of the Jewish people in the United States and Israel.