Morton Klein, the President of the Zionist Organization of America, slammed Rep. Rashida Tlaib (D-MI) for trying to smear him on Monday night ahead of Congressional testimony he is scheduled to give on Tuesday on hate crimes and white nationalism.
Tlaib, who has come under criticism for promoting anti-Semitism, tweeted: "@HouseJudiciary will hold a hearing tomorrow at 10 a.m. on hate crimes & the rise of white nationalism. Mohammad Abu Salha, who lost his two daughters & son-in-law in a hate crime is among those testifying. Please send support & love to @our3winners."
"This is going to be tough for the family because the @GOP are calling ZOA's Mort Klein & conservative Candace Owens to testify at the same hearing," Tlaib continued. "Both have elevated hate rhetoric and extremism in our country."
"As usual, Tlaib resorts to name calling without any facts," Klein said in a statement to The Daily Wire. "I know what unbridled hate looks like firsthand as I lost nearly all of my family in Hitler's Holocaust."
"Tlaib knows what hate looks like as she put a sticky note over Israel on a map in her office and called it Palestine and she wrote for Louis Farrakhan," Klein continued. "Tlaib also supports BDS. Tlaib promotes anti-Semitism more than almost any other member of Congress that I've ever known."
"Tlaib should be ashamed of herself," Klein concluded. "Tlaib falsely accuses Jews of dual loyalty while she wraps herself in the flag of an enemy of the United States, the flag of the terrorist Palestinian authority, on the day she was sworn into office."
All of Klein's claims are factually accurate and have been covered at length by The Daily Wire.
Shortly after taking office, Tlaib promoted the anti-Semitic conspiracy theory that members of Congress have dual loyalty to both Israel and the United States.
"They forgot what country they represent," Tlaib tweeted, referring to U.S. lawmakers who wanted to shut down anti-Semitic BDS campaigns. "This is the U.S. where boycotting is a right & part of our historical fight for freedom & equality. Maybe a refresher on our U.S. Constitution is in order, then get back to opening up our government instead of taking our rights away."
Tlaib does not support a two-state solution between Palestine and Israel, and she supports anti-Semitic Boycott, Divestments, and Sanctions (BDS) campaigns against Israel.
Tlaib, who belonged to multiple groups on social media that demonized Jews and engaged in Holocaust denial, has also been photographed with terrorist sympathizers.
Tlaib's comments received some pushback online and little support:
"'Black people don't have to be Democrats' is not hateful rhetoric. 'We're gonna impeach this motherf**cker' is," Candace Owens tweeted, referring to a previous comment made by Tlaib. "You and your little Congress clique of raging anti-Semites do not scare me. My voice will be heard tomorrow."
Attorney and columnist Kurt Schlichter tweeted: "Bigot says wut?"
Republican strategist Arthur Schwartz tweeted: "Mort is the son of Holocaust survivors who was born in a camp in Germany. Of course you have a problem with him."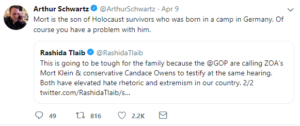 For access to some of Morton Klein's testimony before the House Judiciary Committee, click here. 
To read the complete written testimony of Mort Klein, click here. 
Our Mission
ZOA STATEMENT
The ZOA speaks out for Israel – in reports, newsletters, and other publications. In speeches in synagogues, churches, and community events, in high schools and colleges from coast to coast. In e-mail action alerts. In op-eds and letters to the editor. In radio and television appearances by ZOA leaders. Always on the front lines of pro-Israel activism, ZOA has made its mark.
Center for Law & Justice
We work to educate the American public and Congress about legal issues in order to advance the interests of Israel and the Jewish people.
We assist American victims of terrorism in vindicating their rights under the law, and seek to hold terrorists and sponsors of terrorism accountable for their actions.
We fight anti-Semitism and anti-Israel bias in the media and on college campuses.
We strive to enforce existing law and also to create new law in order to safeguard the rights of the Jewish people in the United States and Israel.