| | | |
| --- | --- | --- |
| | June 11, 2019 | |
ZOA's Mort Klein Speaking at Anti-BDS Conference in Jerusalem June 18-20 Sponsored by Israel's Ministry of Strategic Affairs and Public Diplomacy
June 11, 2019
SHARE THIS WITH YOUR FRIENDS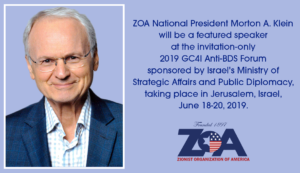 The Zionist Organization of America (ZOA) is pleased to announce that ZOA National President Morton Klein will be a featured speaker at the invitation-only 2019 GC4I Anti-BDS Forum sponsored by Israel's Ministry of Strategic Affairs and Public Diplomacy. The conference will take place in Jerusalem from June 18th through the 20th at the Inbal and Waldorf Astoria hotels. 
Klein's segment, on June 19, will be a moderated dialogue conducted between him and Eric Fingerhut, Hillel International President and incoming President of the Jewish Federations of North America, on the topic of "How the BDS campaign is convincing young Jews to support the boycott of Israel."   
Officials of the Ministry of Strategic Affairs have been expressing alarm at the recent surge of Jewish youth engagement in, and sometimes leadership of, the BDS campaigns of a number of countries. Klein was invited to present his American perspective specifically because of his reputation as a relentless fighter against BDS and because of ZOA's longstanding record of combating BDS, antisemitism, and other manifestations of delegitimization and hatred singling out Israel and the Jews. ZOA's Center for Law and Justice and ZOA Campus have each been recognized as models of support for the Jewish students who increasingly face intimidation and harassment from BDS-affiliated professors and college peers. 
Klein will be joined at the conference by an illustrious group of speakers, including Minister Gilad Erdan; World Jewish Congress CEO Robert Singer; Simon Wiesenthal Center Associate Dean Rabbi Abraham Cooper; Jewish Agency Chairman Isaac Herzog; Conference of Presidents Executive Vice Chairman Malcolm Hoenlein; U.S. Special Envoy for Monitoring and Combating Antisemitism Elan Carr; Jerusalem Post Editor-in-Chief Yaakov Katz; and a host of others. 
Recognizing the critical importance of this conference, Klein agreed to come back to Israel to share his anti-BDS insights shortly after having traveled to Israel, in May, on a very successful mission led by Florida Governor Ron DeSantis.
While in Israel, Mort Klein will meet with students from across the U.S. who are participating on ZOA Campus' Israel Student Leadership Mission.
Klein will also attend meetings with various top Israeli officials and immediately after the conference, Klein will head to Germany to meet with U.S. Ambassador Richard Grenell and other officials. Mort's wife Rita will be accompanying him on both trips. 
---
FOLLOW ZOA
---