| | | |
| --- | --- | --- |
| | August 13, 2019 | |
ZOA to CA Dept. of Ed: Reject and Revise Anti-Semitic School Curriculum
August 13, 2019
SHARE THIS WITH YOUR FRIENDS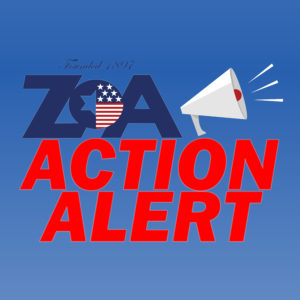 The Zionist Organization of America (ZOA) strongly urges the California Department of Education to reject the current draft of the Ethnic Studies Model Curriculum (ESMC), which is anti-Jewish and anti-Israel, and require that it be revised. 
The current draft curriculum is posted for public comment through August 15, 2019, and so far, it has received many failing grades. (See 'Anti-Jewish, anti-Israel, pro-BDS': California's proposed ethnic studies curriculum gets an F from Jewish caucus, JTA, Aug. 5, 2019.)
To urge community feedback during the public comment period, ZOA issued an Action Alert, which provided an overview of the need-to-know facts about the proposed curriculum, in addition to suggestions of what to do about it.  
It's not too late to help – ACT NOW! 
Yesterday, ZOA National President Morton Klein, Director of ZOA's Center for Law & Justice Susan B. Tuchman, Esq., and Executive Director of ZOA's Western Region David Kadosh sent a letter to the California Department of Education urging it to reject the current draft of the ESMC.
"Jews are essentially not acknowledged as an ethnic group in the ESMC," the letter states, "which makes only a few passing references to Jews. Even worse, we understand from the California Legislative Jewish Caucus' July 29, 2019 letter objecting to the ESMC (with which we fully agree) that the exclusion of Jews was deliberate, reflecting the prejudices of those who drafted the ESMC. It is despicable and unacceptable that anyone's personal biases and prejudices could be incorporated into a school curriculum that is supposed to educate and positively impact students." 
"As the California Legislative Jewish Caucus aptly stated, '[i]t would be a cruel irony if a curriculum meant to help alleviate prejudice and bigotry were to instead marginalize Jewish students and fuel hatred and discrimination against the Jewish community. Without significant edits, the ESMC will do just that.'"
As the oldest and one of the largest pro-Israel organizations in the U.S., whose mission includes fighting anti-Semitism and anti-Israel bias in the media, in schools and on college campuses, we are deeply troubled by the current draft of the ESMC. California students deserve an accurate and balanced understanding of Jews and other ethnic groups.
To view the complete letter to the California Department of Education, click here. 
---
FOLLOW ZOA
---