| | | |
| --- | --- | --- |
| | September 6, 2019 | |
ZOA Action Alert: Thank Honduras & Nauru for Recognizing Israel's Capital Jerusalem
SHARE THIS WITH YOUR FRIENDS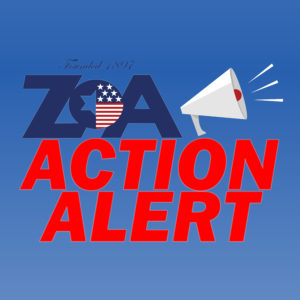 In these often difficult times, it is a pleasure to report good news.  Last week, two more nations – the Republic of Honduras, led by President Juan Orlando Hernandez Alvarado, and the Republic of Nauru, led by human rights lawyer President Lionel Aingimea – recognized Jerusalem as Israel's capital.  These nations are following the wonderful example of U.S. President Trump, and the bipartisan members of the U.S. Congress who overwhelmingly passed the Jerusalem Embassy Act of 1995.  
ZOA thanks and strongly praises the Republics of Honduras and Nauru.
Nauru's Mission to the UN sent a formal letter to the Israeli Mission stating:  "The Mission of Nauru has the honor to convey the decision of the Government of the Republic of Nauru to formally recognize the City of Jerusalem as the Capital City of the State of Israel." 
Honduras' Council of Ministers formally recognized Jerusalem as Israel's capital, approved the opening of a trade office in Jerusalem, and approved a resolution, stating: "The Council of Secretaries of State resolves to support the constitutional president of the Republic in its decision to establish an official diplomatic mission in Jerusalem as an office of political, cultural and commercial cooperation."  The resolution added that the trade office "is an extension from the Honduran embassy in Tel Aviv," and that Honduras "recognizes Jerusalem as the capital of Israel." 
Honduran President Juan Orlando Hernandez traveled to Jerusalem to inaugurate the diplomatic office in Jerusalem on Sunday September 1st, and was warmly welcomed by Israeli officials and the Israeli people. 
Also previously, in December 2017, both Honduras and Nauru courageously voted against a despicable non-binding United Nations Resolution (ES-10/L.22) to condemn the United States' recognition of Jerusalem as Israel's capital.  Then-U.S. Ambassador to the U.N. Nikki Haley tweeted after the vote: "we appreciate these countries for not falling to the irresponsible ways of the @UN."
The terrorist Israelophobic Palestinian Authority is attempting to derail and retaliate against Honduras' and Nauru's brave actions.  The PA announced its plan to file a formal complaint against Honduras at the United Nations.  
It is thus particularly important that all of us thank the Republics of Honduras and Nauru and their leaders.  
Please call or email or tweet your appreciation to the following addresses (and feel free to copy ZOA at liz@zoa.org):
Republic of Nauru twitter
Republic of Nauru Permanent Mission to the United Nations:
(Ambassador H.E. Ms. Marlene Moses)
Phone: (212) 937-0074
Fax: (212) 937-0079
Email: nauru@onecommonwealth.org
President of Honduras Juan Orlando Hernandez twitter
Republic of Honduras Mission to the United Nations:
(Ambassador Mary Elizabeth Flores Flake)
Phone: (212) 752-3370
Fax: (212) 223-0498
Email: ny.honduras@hnun.org
Ambassador of Honduras to the United States Marlon Ramsses Tábora Muñoz email contact
---
FOLLOW ZOA
---