| | | |
| --- | --- | --- |
| | September 10, 2019 | |
ZOA Honored That President Trump Appointed ZOA Chairman Mark Levenson to Prestigious National Post
September 10, 2019
SHARE THIS WITH YOUR FRIENDS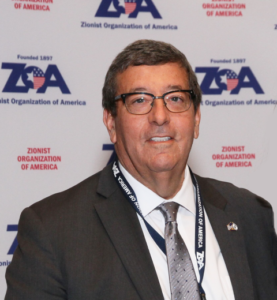 Zionist Organization of America National President Mort Klein issued the following statement:
The Zionist Organization of America (ZOA) is very proud to announce that Mark Levenson, Chairman of ZOA's national board, will be appointed by President Donald Trump to serve as a member of the U.S. Commission for the Preservation of America's Heritage Abroad.
 "On behalf of the National Board Members of the Zionist Organization of America (ZOA) and our regional leaders and members around the country, I offer Mark Levenson, Esq. a hearty Mazel Tov and effusive congratulations on this fabulous appointment," said National President Morton A Klein.
"This is an incredible honor for Mark and the Zionist Organization of America, and I couldn't be more thrilled. It is evident that, in appointing Mark to such a prestigious position, Marks accomplishments and brilliant hard work and that of the ZOA are held in very high esteem by the President of the United States. Mark has shown great leadership skills and tremendous dedication throughout his involvement with ZOA, and I am certain that he will continue to do the same in this additional role."
"I'm very proud to say that included on the appointee list to the U.S. Commission for the Preservation of America's Heritage Abroad are my good friends Julie Strauss, Paul Packer and Elie Hirschfeld – I wish them all the best of luck."
---
FOLLOW ZOA
---