| | | |
| --- | --- | --- |
| | February 11, 2021 | |
ZOA Praises Cong. Chip Roy for His ''No Taxpayer Funding for UN Human Rights Council Act''
February 11, 2021
SHARE THIS WITH YOUR FRIENDS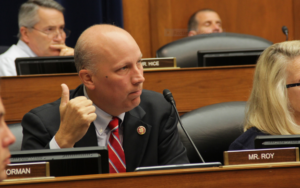 Zionist Organization of America (ZOA) President Morton A. Klein and ZOA Chair Mark Levenson, Esq. released the following statement:
The ZOA strongly praises Congressman Chip Roy (R-TX) for announcing that he is introducing the "No Taxpayer Funding for United Nations Human Rights Council Act." This important legislation is aimed at trying to prevent the Biden administration from effectuating the administration's announced, disgraceful plan to rejoin the corrupt, Israel-hating United Nations Human Rights Council (the "UNHRC"). In addition to demonizing Israel with multiple outrageous false resolutions, the UNHRC also produces an annual database to facilitate economic warfare and boycotts against Jewish, Israeli and related businesses. Congressman Roy's proposed legislation would prohibit the U.S. government from contributing funds to the UNHRC, and would require U.S. contributions to the United Nations to be reduced by a percentage equal to the percentage of the United Nations budget allocated to support the UNHRC.  
This is the second praiseworthy action taken by Congressman Roy on this issue in the space of a week. Following Secretary of State Antony Blinken's troubling announcement that the Biden administration will join and reengage with the UNHRC, Congressman Roy spearheaded a letter, signed by 44 Congresspersons, which documents the UNHRC's obsessive antisemitic focus on condemning Israel (with 85 falsehood-filled anti-Israel resolutions from 2006-2019); and the UNHRC's failure to condemn real human rights abuses by the world's worst terror regimes and dictatorships. The letter properly concludes that rejoining the UNHRC would be morally reprehensible. (See "ZOA Opposes Biden Admin Rejoining Israel-Bashing UNHRC; ZOA Praises Congressional Letter Declaring That Rejoining UNHRC Would Be 'Morally Reprehensible'," Feb. 9, 2021.)
ZOA urges Congress to promptly pass Congressman Roy's "No Taxpayer Funding for UNHRC Act." ZOA reiterates our strong opposition to rejoining the UNHRC, and thanks Congressman Roy for all his continuing efforts.
---
FOLLOW ZOA
---