| | | |
| --- | --- | --- |
| | March 15, 2021 | |
ZOA Praises Biden Admin. Support of Peaceful Protesters' Lawsuits Against Turkey Who Should Not Be Immune From Suit
March 15, 2021
Turkey's Regime Is Overt Hater of Jews and Israel While Supporting Hamas
SHARE THIS WITH YOUR FRIENDS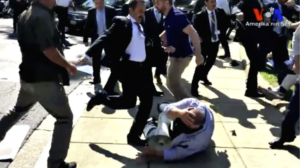 The Zionist Organization of America (ZOA) praises the Biden administration for rejecting the Republic of Turkey's sovereign immunity claim, and supporting U.S. citizens and residents who sued Turkey after they were physically attacked by Turkish security forces and civilian supporters of radical Turkish President Recep Erdogan. The attacks took place during Erdogan's visit to Washington, D.C. on May 16, 2017, where the plaintiffs had lawfully and peacefully assembled to protest Erdogan and his policies.
Turkey moved to dismiss the two separate but factually related lawsuits filed against it in federal district court, claiming that it had blanket sovereign immunity for any and all of the acts that occurred on May 16, 2017. After the district court denied Turkey's motion to dismiss, Turkey appealed to the U.S. Court of Appeals. In a January 25, 2021 order, the Court of Appeals requested the United States' views on the case and "in particular, on the source and scope of any discretion afforded to foreign security personnel with respect to taking physical actions against domestic civilians on public property (i.e., not on diplomatic grounds)."
In a brief filed on March 9, 2021, the United States expressed its agreement with the district court's conclusion that Turkey was not immune from these lawsuits. Noting that whether a foreign nation's entitlement to immunity is a fact-intensive inquiry, the United States relied on the district court's review of extensive evidence submitted by the parties, including several videos of the attacks at issue. According to the evidence, Turkish security personnel struck and kicked the civilian protesters who had fallen to the ground, they chased and violently attacked many of the protesters who were running away from the scene, and they ripped up the protesters' signs. The United States concluded that the district court's account of the facts established that the use of force by Turkish security personnel was not protective in character, and that therefore, Turkey was subject to suit.
In addition to standing up for the protesters and against the violence of Turkey's security detail, the United States' position sends a strong message to Erdogan, Turkey's president, who is a vicious antisemite and Israel-basher. Erdogan's brazen Jew and Israel-hatred includes, but is not limited to, the following:
Crediting the Biden administration for its position in the protesters' suits against Turkey, ZOA National President Morton A. Klein and Director of ZOA's Center for Law and Justice stated: "We applaud the United States government under President Biden's leadership for supporting the lawful and peaceful protesters against Erdogan, rather than deferring to the sovereign immunity claims of Turkey, whose president is an unabashed Jew-hater and Israel-hater, and whose regime expressed support for Hamas during Morton Klein's and other Jewish leaders' meetings with Erdogan and other Turkish officials. It's a disgrace that Erdogan's security forces would engage in unprovoked violence against individuals who were simply exercising their First Amendment rights to express their opposition to Erdogan and his policies. With the blessing of the United States, we at the ZOA hope that Turkey will be held accountable in these lawsuits and that the protesters will get the justice they deserve."
---
FOLLOW ZOA
---