| | | |
| --- | --- | --- |
| | March 2, 2015 | |
ZOA Applauds Leading African Amer. Activists/Ministers For Standing with Israel
March 2, 2015
Saying 'Congressional Black Caucus Should be Absolutely Ashamed' for Boycott of Netanyahu Speech
SHARE THIS WITH YOUR FRIENDS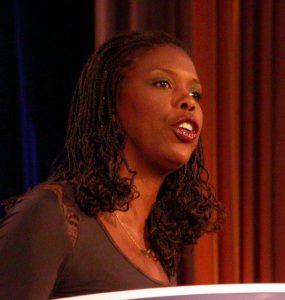 The Zionist Organization of America (ZOA) applauds and thanks Star Parker and a group of prominent African America ministers who bravely spoke out to chastise the Congressional Black Caucus (CBC) for its intended boycott of Israeli Prime Minister Benjamin Netanyahu's upcoming address to Congress on March 3.
During last Thursday's National Press Club Event, organized by Ms. Parker, a leading African American activist and the founder and president of the Center for Urban Renewal and Education (ubancure.org), a public policy think-tank, these courageous Christian ministers collectively spoke not only to distance themselves from the CBC, urging them to cancel their plans and instead listen to Netanyahu, but also spoke critically of President Obama for his handling of the Iran issue, as well as for his treatment of Netanyahu and of Israel. They also spoke with deep appreciation and gratitude for the history of Jewish support for the civil rights movement.
The complete video of the event can be viewed here:  http://www.urbancure.org/mbarticle.asp?id=584&title=Black-Ministers-Welcome-PM-Netanyahu-to-Congress
"We, the black clergy today, rise in utter disgust that the Congressional Black Caucus will in any act of disrespect or sabotage Prime Minister Netanyahu's speech by walking out."
As Star Parker, who organized this gathering of African American ministers, said in her remarks: "The Congressional Black Caucus should be absolutely ashamed of themselves and these black ministers are standing to oppose them…We want the Israeli Prime Minister to know that he is welcomed here by the black Christian community…Israel has had to fight for survival every single day since its founding and it is a sign of ungratefulness that the Congressional Black Caucus is not supporting Prime Minister Netanyahu as the Jewish community stood by us throughout the Civil Rights Movement…They financed Dr. Martin Luther King. They helped found the NAACP. Two Jewish youth even died in Mississippi trying to help the black community…[to PM Netanyahu] We hope the Congressional Black Caucus will not disrespect your appearance [before Congress] but if they do…know that all across this great land you have amazing African Americans that are standing with you and with the State of Israel and its people."
The ministers who spoke at this gathering include:
Bishop David A. Richey of the Gulf Coast Christian Center in Mobile, Alabama
Pastor Levon Yuille of the Bible Church in Ypsilanti, Michigan,
Pastor Cecil Blye of More Grace Ministries in Louisville, Kentucky,
Pastor Dexter D. Sanders of the Rock Center for Transformation in Orlando, Florida
Rev. Ralph Chittams, Sr. of the Forestville New Redeemer Baptist Church in District Heights, Maryland
Pastor Carlton Smith of the Antioch Fellowship Assembly in Cleveland, Ohio
Pastor Owen Alston of Harmony Ministries in Lakehurst, New Jersey
Pastor Stephen Broden of the Fair Park Bible Fellowship in Dallas, Texas
Pastor Harvey Burnett of the New Bethel Church of God in Christ in Peoria, Illinois
Pastor Corey Tabor of the Full Life Community Church in Pflugerville, Texas
Pastor James David Manning of the Atlas World Missionary Church, New York City, New York Pastor Pastor Claude May of the Oasis of Hope Christian Church in Detroit, Michigan
Pastor Bruce Rivers of the Mount Moriah First Baptist Church, Dos Palos, California
The ZOA applauds and thanks Ms. Parker and the African American ministers who joined her at this event, for speaking truth to power, for standing with the Jewish State of Israel, and for having the courage to break with the "consensus" of their community's political leadership and passionately defend their principles.
Select remarks from the ministers:
Pastor Dexter D. Sanders of the Rock Center for Transformation in Orlando, Florida:  "The thing to me that makes no sense is why the Congressional Black Caucus has teamed up with this current administration against Israel…And yes, black caucus, I'm saying you have gone against Israel when you decide to protest the prime minister, Benjamin Netanyahu, from coming and speaking on the behalf of the nation of Israel…That is a slap in the face to the people of Israel, and not only that, it's a slap in the face to God. And not only that, it's also a slap in the face of all Bible-believing African-American people in this country."
Pastor Cecil Blye of More Grace Ministries in Louisville, Kentucky:  "Charges from some members of the United States Congress about the breaking of protocol are no more than a very red herring…The American people need to hear Israel's voice on this urgent matter now. If one side of the aisle can facilitate this, so be it."
Pastor Stephen Broden of the Fair Park Bible Fellowship in Dallas, Texas: "We, the black clergy today, rise in utter disgust that the Congressional Black Caucus will in any act of disrespect or sabotage Prime Minister Netanyahu's speech by walking out. We are outraged to discover that this effort is being engineered by the White House…Israel knows and understands Iran better than the rest of the world. This is not the time to involve ourselves in petty political maneuvering designed to embarrass our friend."
Pastor Harvey Burnett of the New Bethel Church of God in Christ in Peoria, Illinois: "I find it deplorable that some of our nation's political leaders would contemplate and even encourage a boycott or a walk-out during the visit of the Israeli prime minister…I find it deplorable that some of our nation's black leaders would call the Congressional Black Caucus, whose members were elected by the public, to snub our greatest ally in the war against terrorists."
Pastor Corey Tabor of the Full Life Community Church in Pflugerville, Texas: "to intentionally ignore and insult the leader of Israel to make a personal or political statement is irresponsible and immature…In our democratic nations, our leaders have been sent to Congress to represent their entire constituency… We stand today to say that these congressmen do not speak for all black Christians. As Bible-believing people, we stand with Israel, and we urge our leaders to do the same."
Pastor James David Manning of the Atlas World Missionary Church, New York City, New York: "this whole business about 'racism' or about 'Speaker Boehner did not inform the White House' is all hooey… I would compare Obama's presidency and leadership to [President] Jimmy Carter's, with Jimmy Carter being a giant compared to Obama being a midget in terms of policies towards Iran…the Obama appeasement towards Iran has allowed them to continue to enrich uranium to the point where it is almost at weapons grade, as well as to continue to build and develop centrifuges…so we are living in a very dangerous world."
Pastor Carlton Smith of the Antioch Fellowship Assembly in Cleveland, Ohio: "They [American Jews] stood and marched with us in our struggle then, and we must stand with them in the face of their enemy now."
Bishop David Richey of the Gulf Coast Christian Center in Mobile, Alabama: "[T]his is certainly not the time to give even the least of hint that we are not the best of allies with the state of Israel…In order to remain the great nation that we are, some things must remain non-negotiable. I believe our current stand with Israel and Benjamin Netanyahu must be one of those things."
Pastor Claude May of the Oasis of Hope Christian Church in Detroit, Michigan: "I am afraid of the direction we are headed in, based upon fact that we are about to destroy a relationship that has always been strong, always been great…We have always been the strongest of allies with the nation of Israel since its inception, and I am deeply disturbed that that is being deteriorated by these acts."
---
FOLLOW ZOA
---