| | | |
| --- | --- | --- |
| | May 7, 2019 | |
ZOA Condemns Williams College for Denying Recognition of Pro-Israel Student Group and Urges Immediate Action
May 7, 2019
SHARE THIS WITH YOUR FRIENDS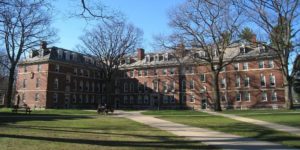 The Zionist Organization of America (ZOA) challenged the decision of Williams College to deny official recognition to a student group called Williams Initiative for Israel (WIFI), simply because the group supports Israel. The decision renders WIFI ineligible for the funding, administrative support and other benefits afforded to registered student groups.
In a letter to the Dean and to the Director and Associate Director of the Office of Student Life at Williams College, ZOA National President Morton A. Klein, Susan B. Tuchman, Esq., Director of ZOA's Center for Law and Justice, and Leore Ben-David, Managing Director of ZOA Campus, wrote that WIFI's request to become a registered student organization (RSO) was wrongfully and illegally denied by the Williams College Council, after WIFI followed all rules and regulations.
Equally disturbing, wrote ZOA in its letter to Williams College, was the behavior of the student representatives at College Council meetings with regard to WIFI's application to become an RSO. Students made outrageous and anti-Semitic comments and accused Israel of "genocidal" and "apartheid" policies. WIFI members were reportedly "vilified by multiple speakers" and were denied the opportunity to refute these lies – to explain Israel's true democratic nature – and also the opportunity to clarify the mission of their club.
The College Council's decision to deny WIFI's application to become an RSO violates Williams College's policies, as well as the First Amendment rights of WIFI students, ZOA explained in its letter.Thus, ZOA urges Williams College to take the following necessary steps:
Override the College Council's decision and recognize WIFI as an RSO;
Issue a statement to the Williams community (1) condemning the actions of the Council and the wrongful, anti-Semitic conduct of speakers at the College Council meetings; and (2) explaining the reasons why it is overriding the College Council's decision, so that the College Council and the rest of the community will understand that Williams College truly stands behind its commitment to the "rights of all to express themselves in words and actions."
---
FOLLOW ZOA
---