| | | |
| --- | --- | --- |
| | September 12, 2019 | |
ZOA Urges Jewish and Other Groups to Call for Sarsour/Berger Dismissal From Sanders & Warren Campaigns
September 12, 2019
SHARE THIS WITH YOUR FRIENDS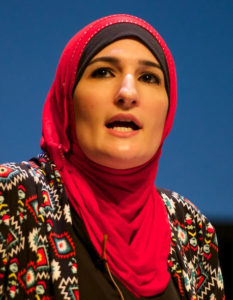 Zionist Organization of America (ZOA) President Morton A. Klein and ZOA Chairman Mark Levenson, Esq. released the following statement:
Horrifyingly, the race for the presidency seems to be turning into a race to the bottom, to see who can hire the worst antisemitic Israelophobic bigots. It is particularly painful that Jewish Senator Bernie Sanders is (again, as he did in 2016) employing vicious Jew-hater and terrorism promoter Linda Sarsour as a campaign surrogate. Sanders is also using Sarsour in new campaign video ads, touting Sanders' "transformative" foreign policy for Palestinian-Arab "self-determination" (meaning, usurping land lawfully designated for the Jewish homeland to create an empowered terrorist Iran-Hamas-Fatah Palestinian-Arab state dedicated to Israel's destruction).  
Not to be outdone, Senator from Massachusetts Elizabeth Warren (who hails from the U.S. state with the second highest percentage of Jews) hired vicious Israelophobe and Hamas-lover Max Berger to be her "Director of Progressive Partnerships." ZOA previously urged Senator Warren to fire Berger. (See "ZOA Urges Sen. Elizabeth Warren: Fire Hamas-Loving, Israel-Hating "IfNotNow" Co-Founder Max Berger," July 9, 2019.)
ZOA likewise urges Senator Sanders to immediately disassociate himself from vicious Jew-hater Linda Sarsour.
ZOA has frequently catalogued and condemned Sanders-surrogate Linda Sarsour's repeated, hateful antisemitic, anti-Israel, anti-women, anti-Muslim-reformer statements and Sarsour's incitement to violence and promotion of anti-Jewish boycotts. Among other things:
---
FOLLOW ZOA
---