| | | |
| --- | --- | --- |
| | September 16, 2020 | |
ZOA Rallied at White House for Peace and Israel Opposing Jew-Hating/Israel-Haters Rally
September 16, 2020
SHARE THIS WITH YOUR FRIENDS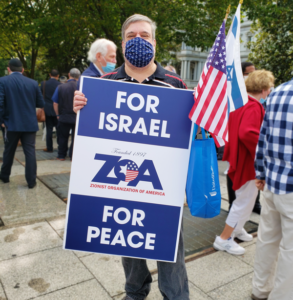 Zionist Organization of America (ZOA) President Morton A. Klein and ZOA Chair Mark Levenson, Esq. released the following statement:
ZOA is proud to have quickly organized a counter-demonstration after it became clear that several groups were targeting the signing ceremony and PM Netanyahu at the White House yesterday for demonstrations opposed to the agreements, to Israel's existence in general, and in some cases, simply opposing the democratically elected leader of the State of Israel Netanyahu. About 50 people came together on very short notice to wave Israeli and American flags, as well as signs that read "FOR ISRAEL, FOR PEACE" and prominently displayed ZOA's logo. ZOA President Morton Klein and Chair Mark Levenson were attending the ceremony in person on the White House grounds (see our Press Release), while ZOA Director of Government Relations Dan Pollak helped coordinate the pro-peace ZOA demonstration outside of the White House grounds.
Dan Pollak said: "It was exciting and meaningful to be a witness, even from outside the White House, to this momentous day of peacemaking. The future of diplomacy in the region will forever be informed by what happened today and ZOA is proud to be present to stand up for Israel and for true peace in the region, despite our concerns that sovereignty over 30% of Judea/Samaria was postponed. There were some interesting contrasts in evidence today — Some Israeli citizens traveled from Israel to make clear their opposition to Benjamin Netanyahu, the elected leader of the democratic country, while pro-Palestinian Arab demonstrators displayed hatred towards Israel and Jews in a vicious way, spewing threats and antisemitic propaganda nonsense and lies. When the anti-agreement protesters saw our signs and Israeli flags near the entrance to the White House, it infuriated them and some of them tried to attack us physically. We were grateful for the Secret Service and D.C. police, who kept them away from the ZOA group."
ZOA National President Morton Klein said: "These agreements are an important step for bringing peace to the people of Israel, the UAE, Bahrain, and the entire region; will help diminish the impact of the Palestinian Authority and Hamas' propaganda lies against Israel; will help diminish the impact of the BDS (boycott, divestment & sanctions) movement's ability to delegitimize Israel; will help establish a united Middle East front against Iranian terrorism and hegemony; and will encourage other nations, such as Oman, Sudan, Morocco, Chad, and possibly even Saudi Arabia, to make peace deals with Israel. President Trump surely deserves a Nobel Peace Prize for brokering these deals.
"This is not the time, though to end the ZOA's advocacy for sovereignty over Judea and Samaria and the Jordan Valley. We are concerned that the comments of the Arab participants in the ceremony reflected so much of the old paradigm, which allowed Palestinian Arab unbridled Jew hatred to be used as an excuse for not moving forward with peace."
---
FOLLOW ZOA
---