Posted by: Morton A. Klein, ZOA
June 6, 2013
More Reasons To Oppose Obama's Nomination of Samantha Power As U.N. Ambassador
June 6, 2013
Borderline Anti-Semitism – Antipathy to U.S.
SHARE THIS WITH YOUR FRIENDS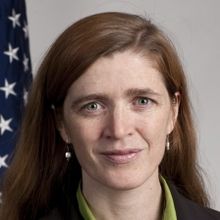 The Zionist Organization of America (ZOA) has pointed to further, deeply worrying borderline anti-Semitic, anti-Israel and anti-U.S. aspects of Samantha Power's record as additional cause for opposing her nomination by President Barack Obama for the post of U.S. Ambassador to the United Nations. Among the statements listed below that can be added to Power's record that we outlined yesterday, the ZOA is shocked by her borderline anti-Semitic remark, made during the 2008 presidential race when there was a discussion about then-senator Barack Obama's attitude to Israel, in which she complained, "So much of it is about: 'Is he going to be good for the Jews?" Further concern about her attitude towards the Jewish state of Israel is provided by Power's outlandish claim that the U.S. went into Iraq at Israel's behest indicating, in the words of the respected Claremont Institute's Paul Mirenhoff that, "So strong is her hatred of Israel that she attributes to this small State the power to corrupt the world's super power." This has also been described by Commentary blogger Noah Pollak as "an appalling slander, and a telling one." Furthermore, Pollak goes on to state that Power is "assenting to the [John Mearsheimer/Stephen Walt] Israel Lobby view of American foreign policy."
 Further disturbing Samantha Power statements:
 Noteworthy commentary on Samantha Power:
"We reiterate our call for the Senate to vote down her appointment."
 ZOA National President Morton A. Klein said,"Some of these additional examples of Samantha Power's disturbing views may be legitimately judged to be borderline anti-Semitic and shockingly hostile to the United States.Her attacks on both the U.S and Israel being human rights-abusing evil-doers; about the need for the U.S. to distance itself from Israel and take the Palestinian side; of lumping Israel together with major human rights abusers like Saudi Arabia and Pakistan; her antipathy to those who support Israel and the notion that Palestinians launch attacks on Israel because Israel 'dispossessed' them (when of course Palestinians were not 'dispossessed' but rather fled a war the Arabs themselves launched to stop the establishment of Israel) – all these comments and more strongly indicate that Samantha Power would be a frightening and even dangerous appointment as U.S. Ambassador to the UN and prove most unlikely to defend effectively the interests of the United States and its allies, including Israel. 
"We reiterate our call for the Senate to vote down her appointment."
---
FOLLOW ZOA
---