Posted by: ZOA Staff
March 14, 2014
After ZOA Campaign, Northeastern U. Suspends Anti-Semitic "Students for Justice in Palestine" Group
March 14, 2014
ZOA Praises Northeastern President Aoun
SHARE THIS WITH YOUR FRIENDS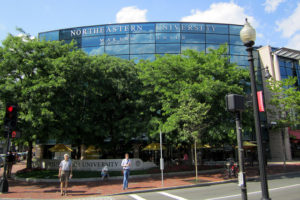 The Zionist Organization of America (ZOA) sent a letter  yesterday to Dr. Joseph E. Aoun, the president of Northeastern University in Boston, MA, strongly praising Northeastern for promptly and appropriately disciplining the anti-Semitic student group that calls itself "Students for Justice in Palestine" (SJP).  At the close of the SJP's annual anti-Semitic "Israel Apartheid Week," the SJP put fake "eviction notices" under students' doors in several of Northeastern's residence halls.   These notices contained false and demonizing information about Israel, calculated to incite hatred of the Jewish State.  The "eviction notices" were designed to look genuine, leading some students to believe that they were actually being evicted – during mid-terms.  These actions, like previous actions of the SJP, caused alarm and even fear in students, especially Jewish students.  Northeastern took strong and decisive action, suspending the anti-Semitic SJP for at least one year; permanently banning its current executive board members from serving on any future board in the organization; mandating training led by university administrators as a condition of reinstatement, and possibly imposing individual sanctions against at least two SJP students, including expulsion.
 The SJP has a history of engaging in a campaign of anti-Semitic harassment and intimidation on campus.  Last year, the SJP disrupted a presentation by Israeli soldiers and was placed on probation. 
The ZOA had been urging Northeastern to remedy the campus anti-Semitism.  In a July 2013 letter to President Aoun, the ZOA detailed the anti-Semitic harassment and intimidation that Jewish students were being subjected to; the letter was based on interviews that ZOA conducted with almost 20 students, as well as with faculty and community members.  In addition, Boston activist Charles Jacobs and his organization, Americans for Peace and Tolerance, prepared a series of videos that exposed and documented the anti-Semitism at Northeastern.  An August 2013 op-ed by Mr. Jacobs and Ilya Feoktistov in The Jewish Advocate, the major Jewish newspaper in the Boston area, praised the ZOA's letter, noting that it "exposes with intense moral clarity the stark failure of Jewish leaders and American educational institutions to keep Jewish students safe from a hostile environment.  It should be a clarion call for all Jews and people of conscience to speak out in condemning this failure.  Only consistent and unyielding pressure will protect Jewish youth from hatred."
 The SJP has a history of engaging in a campaign of anti-Semitic harassment and intimidation on campus. 
 In addition to describing the anti-Semitic hostility, the ZOA proposed that Northeastern take several steps calculated to remedy the hostility.  These included a recommendation that President Aoun publicly and forcefully condemn campus anti-Semitism, and that Northeastern enforce its Code of Conduct and hold Jew-haters accountable when Jewish students are threatened or harassed. 
 Shortly thereafter, Northeastern began implementing these steps.  In late October 2013, President Aoun gave his state of the university address.  To an audience of thousands, Northeastern President Aoun publicly proclaimed, for the first time, that Northeastern would have "zero tolerance for anti-Semitism."  Then, in November 2013, Northeastern issued a written message to faculty that students must be able to express their views without fear of intimidation or reprisal.
 Based on its recent decision to suspend the anti-Semitic SJP among the other punishments imposed, Northeastern is demonstrating that it will hold the SJP accountable for its harassing, intimidating, bigoted and racist behavior, which violates university rules and policies.  As the ZOA wrote to President Aoun yesterday, "You have now told the SJP, loud and clear, that it is accountable for its infractions, just like everyone else.  You have also sent an equally important message to the rest of the university community – that while Northeastern supports a robust exchange of diverse ideas, it will not be at the expense of anyone's physical and psychological safety and well-being.  Fostering a climate of hostility, which is the SJP's modus operandi, is against the mission and core values of Northeastern University."
 Morton A. Klein, ZOA National President, and Susan B. Tuchman, Esq., Director of the ZOA Center for Law and Justice, strongly praised President Aoun and Northeastern University for taking a stand against anti-Semitic bigotry, stating, "We at the ZOA applaud President Aoun for taking Jewish students' concerns seriously and ensuring that they have a campus environment that every student deserves – one that's physically safe, emotionally safe and conducive to learning.  The ZOA thanks President Aoun for his strong action and leadership in protecting the civil rights of Jewish students."
---
FOLLOW ZOA
---